We get asked lots of questions from consumers about Alternative Dispute Resolution (ADR), and how we work as an impartial dispute resolution body in the automotive sector. We've therefore put together the following page of FAQs to answer some of the most common queries that we receive.
What is Alternative Dispute Resolution (ADR)?
Alternative Dispute Resolution (ADR) is a method of resolving a dispute fairly between consumers and businesses without having to go through the legal process, often making it quicker, cheaper and simpler than going to court. This could be through the use of a neutral third-party mediator or a formal arbitration process.
Here at The Motor Ombudsman, we use the process of adjudication, which is where an impartial adjudicator reaches a decision (i.e. in favour of the consumer or business or even a split outcome in some circumstances), by evaluating the evidence supplied by both parties against the standards set by our Code of Practice and, where relevant, the law.
Of course, we want to resolve every complaint as quickly and as amicably as possible, so we will always look to see if it's possible to resolve the issue without the need for the case to be passed on to an adjudicator (also known as an early resolution). This is normally when the business makes an offer to settle the dispute or carry out an action, like repairing the vehicle.
What legislation oversees Alternative Dispute Resolution (ADR) in the UK?
The Alternative Dispute Resolution for Consumer Disputes (Competent Authorities and Information) Regulations 2015 and The Alternative Dispute Resolution for Consumer Disputes (Amendment) Regulations 2015, better known as the Alternative Dispute Resolution Regulations 2015, govern the ADR process in the UK. The legislation came into force on 9th July 2015 following the implementation of a 2013 European Directive on ADR.
From 1st October 2015, businesses have been required to supply consumers with the details of a certified ADR provider, and inform them as to whether they intend to use them to help resolve a dispute.
Businesses should actively sign up to be part of an ADR body, such as The Motor Ombudsman, as this demonstrates to consumers that you are acting both transparently and fairly, and consumer research shows that being accredited to a scheme like The Motor Ombudsman helps your customers to have more trust in you, thereby enhancing your reputation.
Was ADR used before the introduction of the new regulations in 2015?
Yes, ADR has been around for a long time. There are lots of different types of ADR, which are used across a variety of sectors and throughout the world. Ombudsman schemes, which have been created to ensure consumers have somewhere to go that isn't just the courtroom, are just one kind of ADR. In fact, the very first Ombudsman was Swedish, and was appointed in 1809 to investigate issues between Sweden's government and its citizens.
How long has The Motor Ombudsman been providing ADR for?
The Motor Ombudsman, which provides ADR to consumers and businesses solely in the automotive sector, was launched in November 2016, though we've been providing ADR since 2008 under our previous name, Motor Codes.
If I have an unresolved complaint, how do I know whether a business in the motor industry has appointed The Motor Ombudsman as an ADR provider?
Any business accredited to one or more of our four Motor Industry Codes of Practice should either have information about their accreditation on display at their premises, where that's possible, or be available on their website. On some occasions, a digital 'Smart Badge' on the business' website will show the status of their accreditation to The Motor Ombudsman (i.e. whether it's active or not). Similarly, all businesses listed on our website, such as vehicle manufacturers, and vehicle warranty product providers, and on our online Garage Finder will be accredited to us.
You can also ask for the complaints policy of the business, as this should include details of their appointed ADR provider, such as The Motor Ombudsman, and similarly, this information should be made available when you receive a final response to your complaint.
However, it's important to note that the current ADR Regulations only require a business to direct consumers to their preferred ADR provider; they don't have to use one to help resolve the dispute. In fact, any business that's accredited to The Motor Ombudsman has agreed to abide by the decisions made by our adjudicators and ombudsmen.
If a business, such as an independent garage or car dealership, has not appointed an ADR provider, we recommend that you contact Citizens Advice for guidance on how to progress your dispute.
When can I use an ADR provider to help resolve my complaint?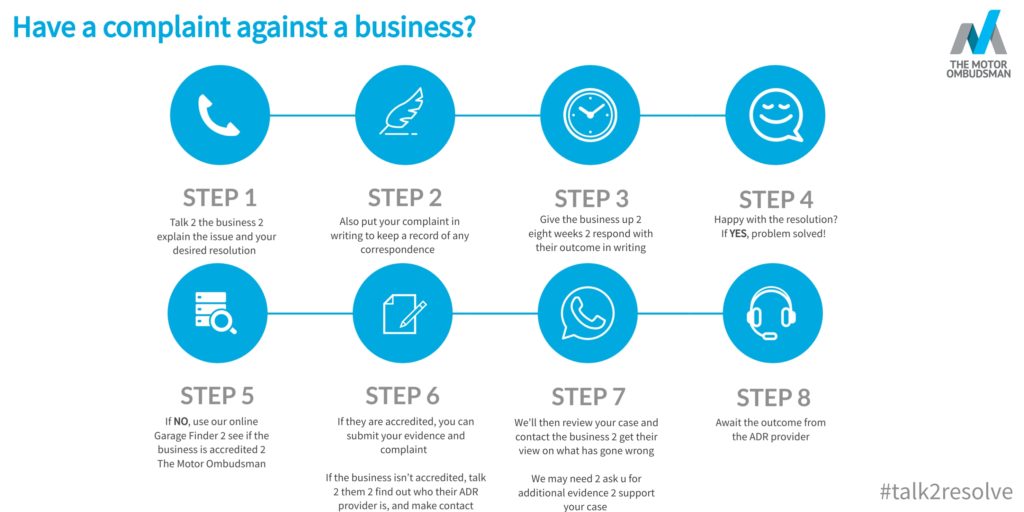 It's always best to try and resolve any complaints directly with the business and keep the channels of communication open to achieve this. However, if this is not possible, and you have given the business up to eight weeks to provide their final response, you can then get in touch with an ADR provider, such as The Motor Ombudsman. The business should provide their details in the final response, and it's best to ask for this to be in writing.
What are some of the key benefits of ADR for consumers when needing to resolve a complaint?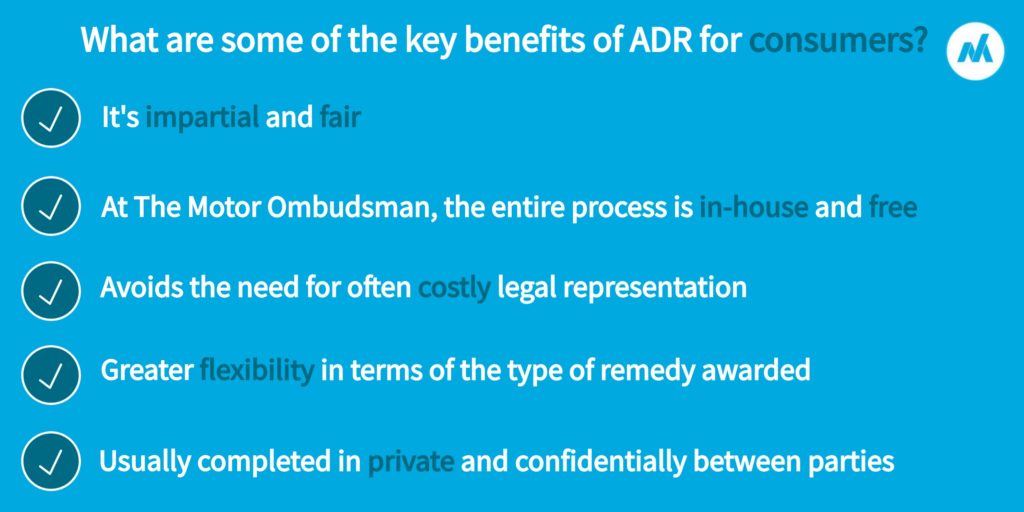 ADR is a fair and impartial process, and helps to avoid confrontation and safeguard the relationship and trust, between yourself as the consumer, and the business that you have a complaint against
In the case of The Motor Ombudsman, the entire ADR process is in-house and free of charge from start to finish, meaning that you can save money and stress compared to when pursuing a business through the legal system (i.e. going to court)
ADR avoids the need to take often costly legal action in the first instance when trying to settle a dispute with a business, such as a garage, car dealership or vehicle manufacturer
ADR procedures can often be more flexible in terms of their outcome. It may therefore be possible to achieve outcomes that a court could not award, or to get a result that the parties think is fairer than that dictated by law
The resolution of the dispute may be concluded confidentially behind closed doors, as opposed to the case being brought to a more public environment like a courtroom or being resolved across social media
How does The Motor Ombudsman's ADR process work?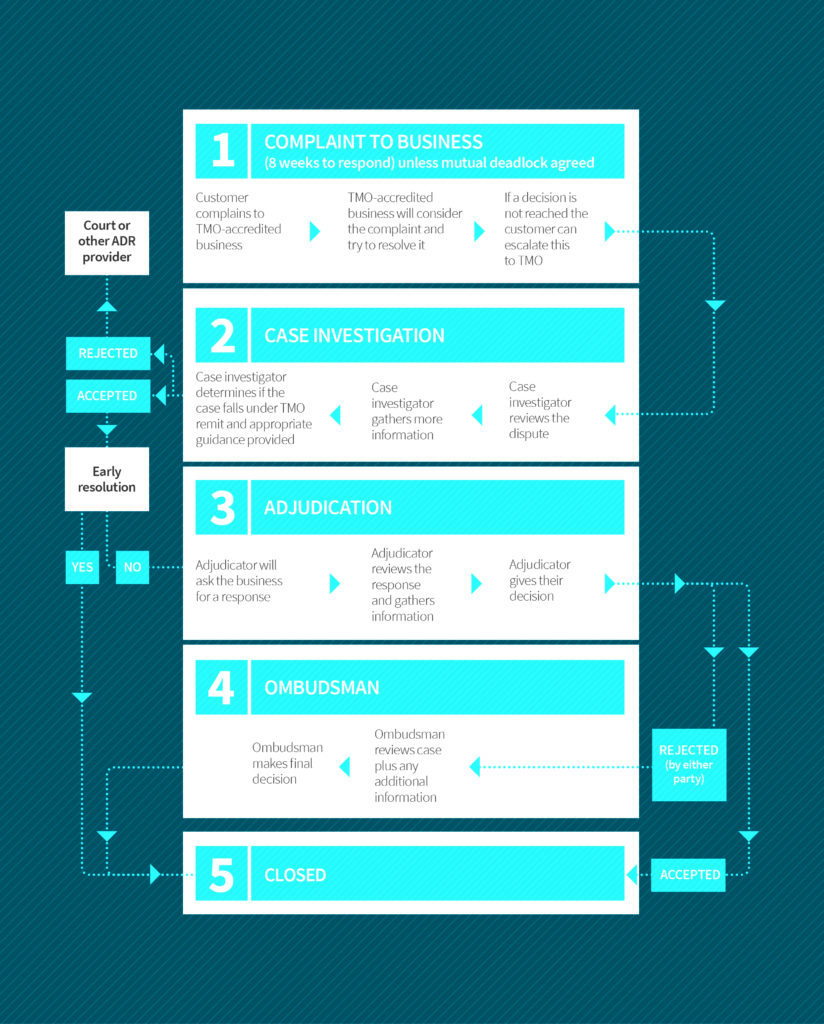 If you've been unable to resolve your complaint directly with a Motor Ombudsman-accredited business, either because you've received their final response and are unhappy with it, or haven't received an answer at all within eight weeks of making your complaint, you can get in touch with us to raise a case.
The best way to do this is to complete our short web form. This allows you to provide details about the vehicle which your complaint is about, to tell us about the reason for the dispute, and the resolution that you're looking for from the business (e.g. money off the cost of the repair or a refund). We will also need to see a copy of the final response from the business, as well as any other documentation or evidence that's relevant, such as photographs, sales invoices or e-mails between you and the business.
Once the form has been submitted, a case file will be created on our system, and you will receive a five-digit case number from us, as well as a longer tracking reference. From this point onwards, all information will then be attached to this number so that all documents and correspondence relating to the resolution of your complaint are kept safely in one place. Make sure you use the long tracking number on any e-mails you send to us to keep everything on one case file.
The next stage of the process will see our case investigators gathering information from the business about your dispute so that we have both sides of the story, thereby enabling us to deliver a fair outcome based on the evidence provided.
Once we have all of the required evidence, we will look to see whether the case can be resolved more quickly through what's called an early resolution, meaning that it will not need a formal review. This is normally when the business makes an offer to settle the dispute or carry out an action, like repairing the vehicle.
If this is not possible, an adjudicator will review the entire case file from a neutral point of view and see what's happened. Based on the evidence provided, the Code of Practice and any applicable law, they will reach a fair and reasonable outcome and, if they think your complaint should be upheld, they will let you know what the business needs to do to put things right. For more information on the possible awards we could make, please take a look at our guide.
If you accept the adjudication outcome, and the business also agrees, and has been asked to take any remedial action – for example, repairing the car or providing you with a refund, we will ensure this is carried out before closing the case. However, if either you or the business disagrees with the outcome, you can request a final decision from the ombudsman.
It's their job to review the case once again, and to look at any other information that has come to light since the adjudicator delivered their outcome. They might agree with the adjudicator, or the ombudsman might reach a different conclusion. Whatever happens, it's up to you, the consumer, to decide if you'd like to accept the ombudsman's decision or not. If you accept it, it will be binding on both you and the business. If you disagree with the final decision, which is the last stage of our ADR process, you have the right to pursue your case in a court of law. In this scenario, the judge may take into account the decision(s) delivered by The Motor Ombudsman when coming to their judgment.
ADR tips for consumers
To view some ADR tips for consumers, please click here.
Please note that you have the right to withdraw from the ADR process at any time, and even if you pursue a case through the ADR process, this does not compromise your legal rights or stop you from taking your case to court to be heard.