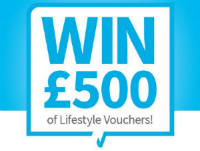 Nigel from Wiltshire was selected at random in The Motor Ombudsman's latest prize draw, emerging as the winner of £500 in Lifestyle Vouchers. He was one of the hundreds of consumers who rated and reviewed a business on The Motor Ombudsman's online Garage Finder during the opening quarter of 2021.
Nigel took his car for a service and MOT at the Fish Brothers Renault and Dacia car dealership on Paddington Road in Swindon and gave the business ten out of ten stars for both the booking process used by the business, as well as for its customer service.
To be in with a chance of winning £500 in Lifestyle Vouchers in the next prize draw, which takes place at the beginning of July 2021, simply visit our Garage Finder and search for the profile of the business that you have used to either buy, service a repair or car. You can then leave a rating and a short review based on your experience.
The next quarterly prize draw will take place in July 2021.

Image courtesy of Fish Brothers Renault and Dacia, Swindon.