Motorists living in Wales and Scotland are the most likely to recommend their local garage to friends and family according to the findings of The Motor Ombudsman's latest Service and Repair Code survey
Female vehicle owners in the UK and those aged 65 are more inclined to share their positive experiences with others  
Eight out of ten people stated that a business being accredited to a Chartered Trading Standards Institute-approved Code of Practice would influence their future choice of garage
Vehicle owners in Wales and Scotland are the most likely to give the name of their local garage to family and friends out of any motorists in the UK, according to the findings of the latest Service and Repair Code of Practice survey by The Motor Ombudsman*. The study by the automotive dispute resolution provider, asks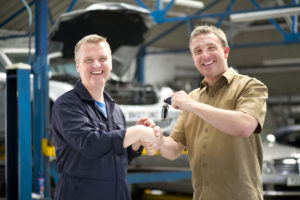 consumers who have used a franchise dealer or independent garage that is accredited to its Chartered Trading Standards Institute-approved Code, a series of questions about their visit, including whether they would recommend their local garage following work on their car.
The reviews left by more than 179,000 respondents revealed that drivers in the southern Scottish counties of Berwickshire and West Lothian, as well as those resident in the Welsh areas of Cardiff, Neath Port Talbot and Bridgend, are the most loyal when it comes to sharing good experiences with others, with all championing the work of their chosen garage. The results also showed that individuals living in Greater Manchester and Northern Ireland look to spread a positive message, whilst 98% of participants polled in Guernsey and on the Isle of Man are keen to do the same.
Nationwide, 93% of franchise dealer customers would make a recommendation, which rises to 99% for those that have visited an independent business. Furthermore, female motorists in the UK and those aged over 65 are the most effective communicators when it comes to advising relatives and acquaintances as to where they should take their car in for a service or MOT. Conversely, the 26 to 39 age group are the least inclined to pass on advice about a business that delivers good work and service.
The latest poll equally highlighted that accreditation to a Chartered Trading Standards Institute-approved Motor Industry Code of Practice, remains very influential in the decision-making process of consumers when choosing which garage to visit, with more than eight out of ten people stating that this is a key factor. In the UK, thousands of businesses adhere to The Motor Ombudsman's Service and Repair Code, and are listed on its online Garage Finder (www.TheMotorOmbudsman.org/garage-finder).
Bill Fennell, Chief Ombudsman and Managing Director of The Motor Ombudsman, said: "With so much choice across the country as to where to get your car repaired, word of mouth remains a powerful source of business for many garages up and down the country, and the reviews clearly reflect this. A high standard of service and workmanship is what today's motorists expect, and our Service and Repair Code provides the necessary guidelines to achieve and maintain this. We are therefore continuing to see more and more garages signing up to our Code, as it allows them to stand out from their competitors who are not accredited to us."
ENDS
Notes to editors
The Service and Repair Code survey was completed by a total of 179,360 respondents between 01 January and 31 December 2016 under Motor Codes and The Motor Ombudsman.
Would you recommend the garage to friends and family?
By outlet
Yes
Independent garage                99%
Franchise dealer                      93%
By age
Yes
17 – 25                                    96%
26 – 39                                   94.2%
40 – 55                                   94.9%
56 – 65                                   96.8%
65+                                         97.4%
By gender
Yes
Male                                       97.3%
Female                                   96.2%
By region
Yes
Berwickshire                            100%
Cardiff                                      100%
Neath Port Talbot                    100%
Greater Manchester                 100%
Bridgend                                  100%
Fermanagh                              100%
West Lothian                           100%
Pembrokeshire                    99.09%
Isle of Man                          98.69%
Swansea                              98.64%
Inverclyde                           98.55%
Guernsey                             98.26%
Peeblesshire                        98.02%
About The Motor Ombudsman
The Motor Ombudsman is the automotive dispute resolution body. Fully-impartial, it is the first ombudsman to be focused solely on the automotive sector, and self-regulates the UK's motor industry through its comprehensive Chartered Trading Standards Institute (CTSI)-approved Codes of Practice. Thousands of businesses, including vehicle manufacturers, warranty product providers, franchised dealers and independent garages, are accredited to one or more of the Codes, which drive even higher standards of work and service, and give consumers added protection, peace of mind and trust during the vehicle purchase and ownership experience.
For more information on The Motor Ombudsman, visit www.TheMotorOmbudsman.org
About the Service and Repair Motor Industry Code of Practice
Approved by the Chartered Trading Standards Institute (CTSI), the Service and Repair Code is designed to ensure that consumers receive an honest and fair service when visiting an accredited business' premises for work or repairs on their car. It covers a series of promises made by retailers and repairers such as the use of clear advertising, open and transparent pricing, completing extra work only with prior agreement, and the use of competent and qualified staff.
To download a copy of the Service and Repair Code, visit https://www.TheMotorOmbudsman.org/consumers/our-codes-of-practice/service-repair-code
The Motor Ombudsman media contact: 
Simon Wittenberg
PR Manager
The Motor Ombudsman
Telephone: +44(0)20 7344 1609
E-mail: swittenberg@tmo-uk.org