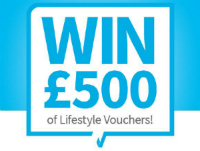 A Range Rover Evoque owner from Yorkshire has got 2023 off to a winning start after being chosen at random in The Motor Ombudsman's first quarterly prize draw of the year.
Karen, who has been named as the lucky recipient of £500 in Lifestyle Vouchers, was one of the many hundreds of consumers who left a review and rated a business on The Motor Ombudsman's popular online Garage Finder during the last three months of 2022.
In October, Karen visited Bob Trice Mechanics, a long-established independent Land Rover service and repair specialist in the town of Beverley near to the city of Hull, for a repair on her SUV. Following her visit, she left a glowing ten out of ten rating for all aspects of her experience, as well as the following positive feedback:
"Wouldn't go anywhere else!"
Delighted about winning the Lifestyle Vouchers, Karen said:
"I use Bob Trice, as I totally trust him as a mechanic and the service you receive is always first class."
To be in with a chance of winning £500 worth of Lifestyle Vouchers in the next quarterly prize draw in April 2023, all you need to do is to rate and review a Motor Ombudsman-accredited business listed on The Motor Ombudsman's online Garage Finder.
You can leave written feedback on the Garage Finder profile of an independent garage, bodyshop, repairer or franchise car dealership after visiting them for a vehicle repair, service, MOT or purchase of a new or used car.
Image courtesy of Bob Trice Mechanics.