The Motor Ombudsman launches a new search facility on its popular Garage Finder to allow drivers to easily find and identify accredited businesses that service and repair electric vehicles (EVs)
The latest upgrade to the online tool follows the body's YouGov poll of 1,903 UK driving licence holders, which revealed that 84% of people would not know of a local business to get their electric vehicle serviced if they owned one
The study also found that only around one in ten respondents (12%) were familiar with how an annual service for a battery-powered vehicle differs from one that has a petrol or diesel engine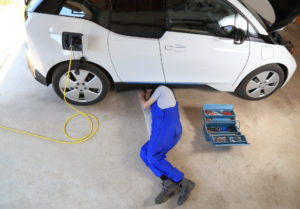 With an increasing number of people turning to zero emission car ownership in the UK, The Motor Ombudsman, the automotive dispute resolution provider, has announced the introduction of a new search facility and dedicated symbol on its Garage Finder to make it easier and quicker for drivers to find and identify a local accredited business that is able to service and repair electric vehicles (EVs).
The latest upgrade to the popular online tool (TheMotorOmbudsman.org/garage-finder) comes in response to the findings of The Motor Ombudsman's recently commissioned YouGov survey of 1,903 UK driving licence holders. The study found that, if they were to own an electric vehicle, 84% of people would not know of a local independent garage or car dealership where they could take it for its annual service. Those living in Northern Ireland, and individuals over the age of 45, would be the least familiar as to where to go, with 94% and 85% of people stating respectively that this would be the case. Conversely, male drivers (one in five), and those aged between 18 to 24 years (17%), were the most conversant as to which local businesses could accommodate this type of car.
In addition, when it came to understanding how an annual service for a battery-powered vehicle differs to the yearly review for a car powered by an engine, only around one in ten survey participants (12%) indicated that they would be able to distinguish between the two. Out of all regions in the UK, licence holders residing in London (16%) and Wales (15%), were the most able to recognise that servicing for zero emission cars had fundamental differences to that for a car running on petrol or diesel fuel.
Of the 1,903 adults with a driving licence who took part in the study, two thirds were able to correctly identify that brakes and tyres (67% and 66% of individuals respectively) would be checked during an annual service for an EV. Furthermore, over 60% of those polled rightly indicated that the condition of the suspension (61%) and windscreen wipers (63%) would also be looked at. In contrast, 40% incorrectly said that the air filter would need to be examined during the routine maintenance of a battery-powered car. Similarly, just under a third of those surveyed stated that they thought there would be an oil change (30%), whilst the car's timing belt (29%), emissions (26%) and spark plugs (26%) would equally be inspected when on the ramp, checks that actually wouldn't happen during an EV service.
Bill Fennell, Chief Ombudsman and Managing Director at The Motor Ombudsman, said: "Sales of electric vehicles are fast gathering pace, and they all need to be serviced and maintained in accordance with recommended manufacturer guidelines. Our research showed that there was an inherent need to make it quicker and easier for repairers to make motorists aware that they can service electric vehicles, and for owners to be able to easily find a business where they can take their car in. The new facility on our Garage Finder responds to both of these requirements, and therefore we expect it to be an extremely popular addition."
To access The Motor Ombudsman's Garage Finder, visit www.TheMotorOmbudsman.org/Garage-Finder.
ENDS
Notes to editors
About The Motor Ombudsman
The Motor Ombudsman is the automotive dispute resolution body. Fully-impartial, it is the first ombudsman to be focused solely on the automotive sector, and self-regulates the UK's motor industry through its comprehensive Chartered Trading Standards Institute (CTSI)-approved Codes of Practice. Thousands of businesses, including vehicle manufacturers, warranty product providers, franchised dealers and independent garages, are accredited to one or more of the Codes, which drive even higher standards of work and service, and give consumers added protection, peace of mind and trust during the vehicle purchase and ownership experience.
For more information on The Motor Ombudsman, visit www.TheMotorOmbudsman.org
About the YouGov survey data
All figures, unless otherwise stated, are from YouGov Plc. The total sample size was 1,903 adults with a full or provisional driving licence. Fieldwork was undertaken between 14th – 15th November 2019. The survey was carried out online. The figures have been weighted and are representative of all UK adults (aged 18+).