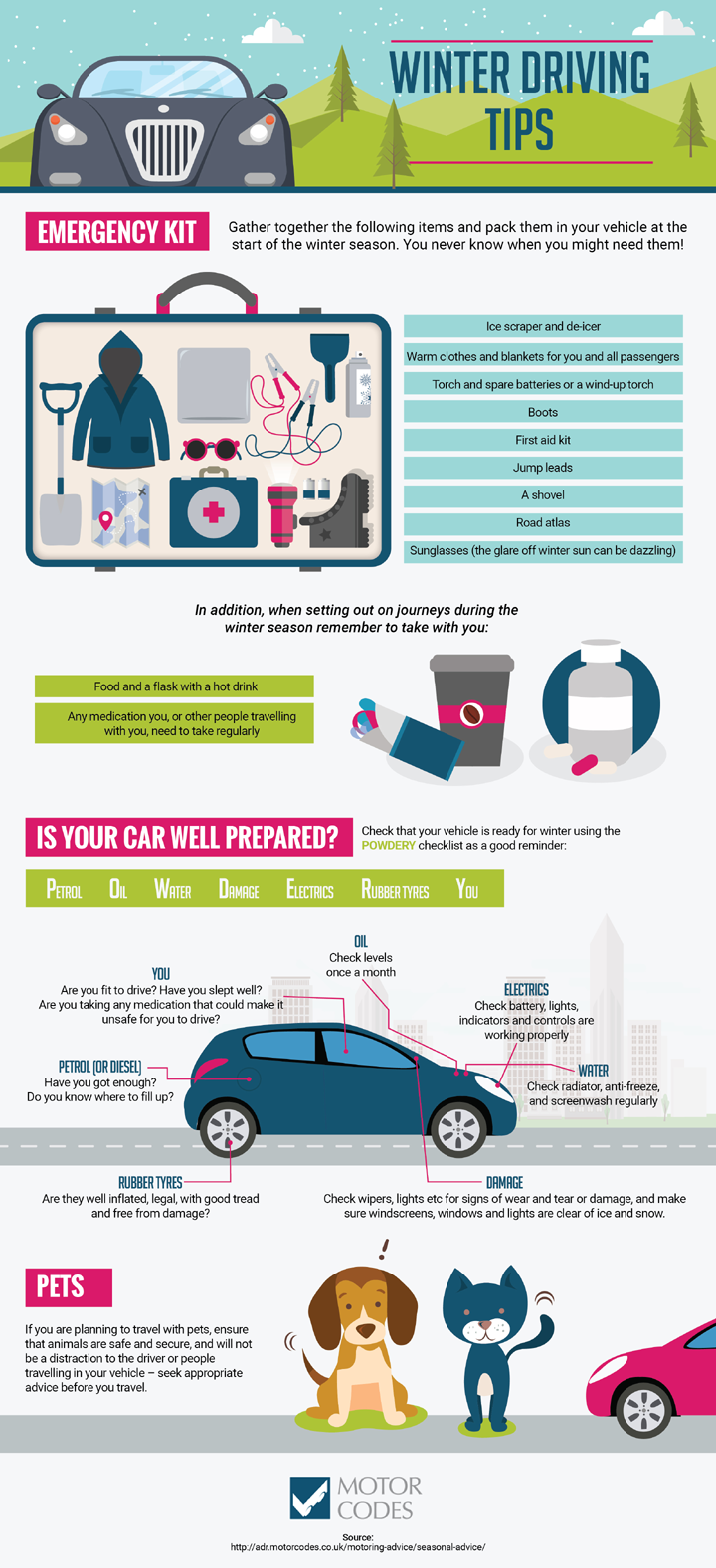 Winter Driving Advice
This winter to ensure you stay safe and your car remains in good condition, follow these words of winter wisdom:
Emergency kit
Gather together the fol­low­ing items and pack them in your vehi­cle at the start of the win­ter sea­son. You never know when you might need them!
Ice scraper and de-icer
Warm clothes and blan­kets – for you and all passengers
Torch and spare bat­ter­ies – or a wind-up torch
Boots
First aid kit
Jump leads
A shovel
Road atlas
Sun­glasses (the glare off win­ter sun can be dazzling)
In addi­tion, when set­ting out on jour­neys dur­ing the win­ter sea­son remem­ber to take with you:
Food and a flask with a hot drink
Any med­ica­tion you, or other peo­ple trav­el­ling with you, need to take regularly
Is your car well-prepared?
Check that your vehi­cle is ready for win­ter using the POWDERY check­list as a good reminder:
PETROL (or diesel). Have you got enough? Do you know where to fill up?
OIL – check lev­els once a month
WATER – check radi­a­tor and screen­wash regularly
DAMAGE – check wipers, lights etc for signs of wear and tear or dam­age, and make sure wind­screens, win­dows and lights are clear of ice and snow.
ELECTRICS – check lights, indi­ca­tors and con­trols are work­ing properly
RUBBER TYRES – are they well inflated, legal, with good tread and free from damage?
YOU – are you fit to drive? Have you slept well? Are you tak­ing any med­ica­tion that could make it unsafe for you to drive?
If you are planning to travel with pets, ensure that animals are safe and secure, and will not be a distraction to the driver or peo­ple trav­el­ling in your vehi­cle – seek appropriate advice before you travel.
For more tips and to learn more about driving in severe weather, visit the Highways Agency winter advice page.