Online Code Shop
Accredited garages can purchase items through the Code Shop to promote their accreditation to consumers and ensure they are compliant.
Items available to buy include literature such as Consumer guides to The Motor Ombudsman and Code of Practice booklets, as well as signage, plaques and posters. Showing The Motor Ombudsman logo on your premises helps to reassure customers that they're doing business with a garage they can rely on.
Businesses can also purchase posters and stickers to promote the customer satisfaction survey, this gives you valuable feedback and helps you to stand out from the crowd. Your customers also benefit by having the chance to win £500 in Lifestyle Vouchers by leaving an online review of their recent garage visit.
Products can be purchased through our online Code Shop.
If you don't have a username and password please contact us on 0345 241 3008 (Option 2) or fill out the form below to place an order.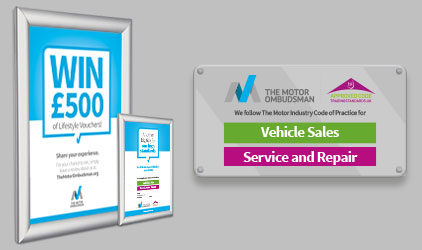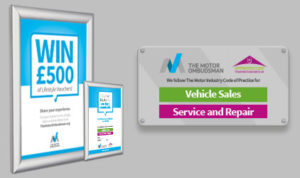 COVID-19 safety products
In order to ensure you can keep social distancing and safety measure in place and to help keep your customers and staff  reassured, we're offering a range of COVID-19 safety products.
You can find information on the full range and how to order here.