TMO Talks To

 Alan Welch, Director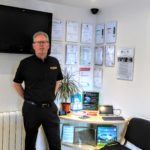 Avco Motors Ltd. is an independent garage carrying out servicing and repairs on multiple vehicle makes and models in the Hemel Hempstead area of Hertfordshire. Located in a modern building with a comfortable reception and viewing window to a well-equipped workshop, the latest diagnostic equipment and up-to-date trained staff, we offer our customers an affordable alternative to franchised dealerships without compromising on quality or service. We spoke to Alan Welch to find out more.
TMO: How long have you been employed at your business?
AW: Myself and my business partner started Avco Motors 33 years ago after having worked together at one of the local main dealers, from when we first started as apprentices, through to when we became technicians.
TMO: Why did you choose to work in the motor industry?
AW: I have always been interested in all types of motor vehicles and engineering. Growing up, I was involved in motorcycles and found myself repairing my own bikes to save money. When I left school, a local main dealer was recruiting apprentices, so I applied, and that as they say, started my journey.
TMO: What do you enjoy most about your job and work in the automotive sector?
AW: In the early years, I was more hands on, and diagnosing a problem and resolving it was very rewarding. Now, I am dealing with the every day running of the business, which is very different, but is still just as rewarding.
TMO: What are your career highlights? 
AW: There have been many throughout the years. It makes me proud that we have grown into a business that is trusted and has a loyal customer base, which has mainly come from recommendations. Also, we have been able to re-develop our premises, from what could only be described as lock up garages, to the modern building we have now, which ultimately benefits our customers and staff alike.
TMO: What do you think are the biggest challenges facing your business? 
AW: Where do I start! I think that the main challenges are rising costs, technology and staffing. We invest a lot in the latest equipment and training, but unfortunately, the motor trade has long been undervalued and under paid, so getting the right staff and keeping them is always difficult. However, if you persevere and offer the right package, they are out there.
TMO: What approaches do you use, or what events do you run to make customers feel even more at ease when they visit your premises? 
AW: We like to keep the customer updated and in the loop all the time their vehicle is in with us; we want them to feel that they are getting personal service, and are not just another customer. Social media has been another way to keep customers up to date with changes in our business and the motor trade as a whole.
One of our most popular events has been the 'Know your car' mornings where people bring their own vehicle, and one of our technicians will then run through the basic levels and safety checks with them. This proved very popular with the ladies section at the local golf club. The tea and biscuits went down well also!
TMO: How does your business benefit from being accredited to the Motor Ombudsman's Motor Industry Code of Practice for Service and Repair?
AW: Accreditation has given our customers confidence that we are working to the highest standards, and this has been one of the best decisions we have ever made. Unfortunately, the motor trade has been tarnished over the years, so being accredited to The Motor Ombudsman's Service and Repair Code shows our customers that we are committed to giving them the best possible service. Also, should a problem arise, and communication breaks down for any reason, there is an independent organisation that can guarantee fair treatment for all parties.