TMO Talks To

 Ben Johnson, Manager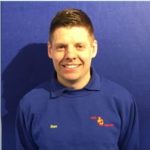 The Garage On The Hill in Melksham, Wiltshire, has been servicing and repairing cars since 1985. The family-run business brings a modern, efficient and quality service with old fashion values. With five fully qualified and experienced technicians on site, along with a constant reinvestment programme for tools, equipment and technical data, this means that they keep up-to-date with the latest range of diagnostic equipment to deal with most makes and models.
TMO: How long have you worked at The Garage On The Hill?
BJ: I have worked here since 2005, and our family business has been established since 1985.
TMO: Why did you choose to work in the automotive industry?
BJ: I wanted to work with the rest of my family in our business. I also want us to be the best garage in our area, to learn an important trade, and to try and be the best at it.
TMO: What do you most enjoy about your job and your work in the service and repair sector?
BJ: It is a fast-moving and developing industry. To think how far things have changed over the year is quite incredible. It's not only important to learn about the new technologies, but to stay on top of it as much as you can.
TMO: What are your career highlights?
BJ: For our family to achieve over 30 years in business is incredible, and it is a great credit to them and our staff. We are working hard to improve and continue our service for another 30 years.
TMO: What do you do to encourage more women to take up a role within a garage or the motor industry?
BJ: We have employed a few women at our garage over the years, some in a reception role and a couple in the workshop. When we look for more staff to join us, I am not interested if they are male or female, but I look at their qualifications and attitude.
TMO: How many female staff work for you, and in what roles?
BJ: I currently have two female members of staff who work for us in a part time administration role. I am looking to hire another receptionist in the coming weeks, and we have only had females enquire about the role at this moment.
TMO: What do you think the main challenges will be for your business this year?
BJ: To be blunt, I think that the biggest issue in our industry is the choice of low cost parts. Customers are being tempted to buy cheap and inferior components, who then ask us to fit them to their vehicle (which we are unable to do for warranty and insurance reasons). This is the trade's biggest problem and a massive issue for us in our area. It needs to be made clear to consumers that cheap does not necessarily mean the best. This why we are looking into ways to reward loyal customers, but at this moment I am finding it difficult to find a way to do this in the most effective way.
TMO: What approaches do you use, or what events do you run to make female customers more at ease with using a garage like yours?
BJ: I will be making videos of us and our facilities to show people who we are and what we offer. This should help make people feel more at ease coming to us. I believe we could do more, but we must find the balance to do this as we work six days a week.
Interview conducted in March 2019