Dukes AutoTech in St Austell named the national winner of The Motor Ombudsman's inaugural Garage Star Awards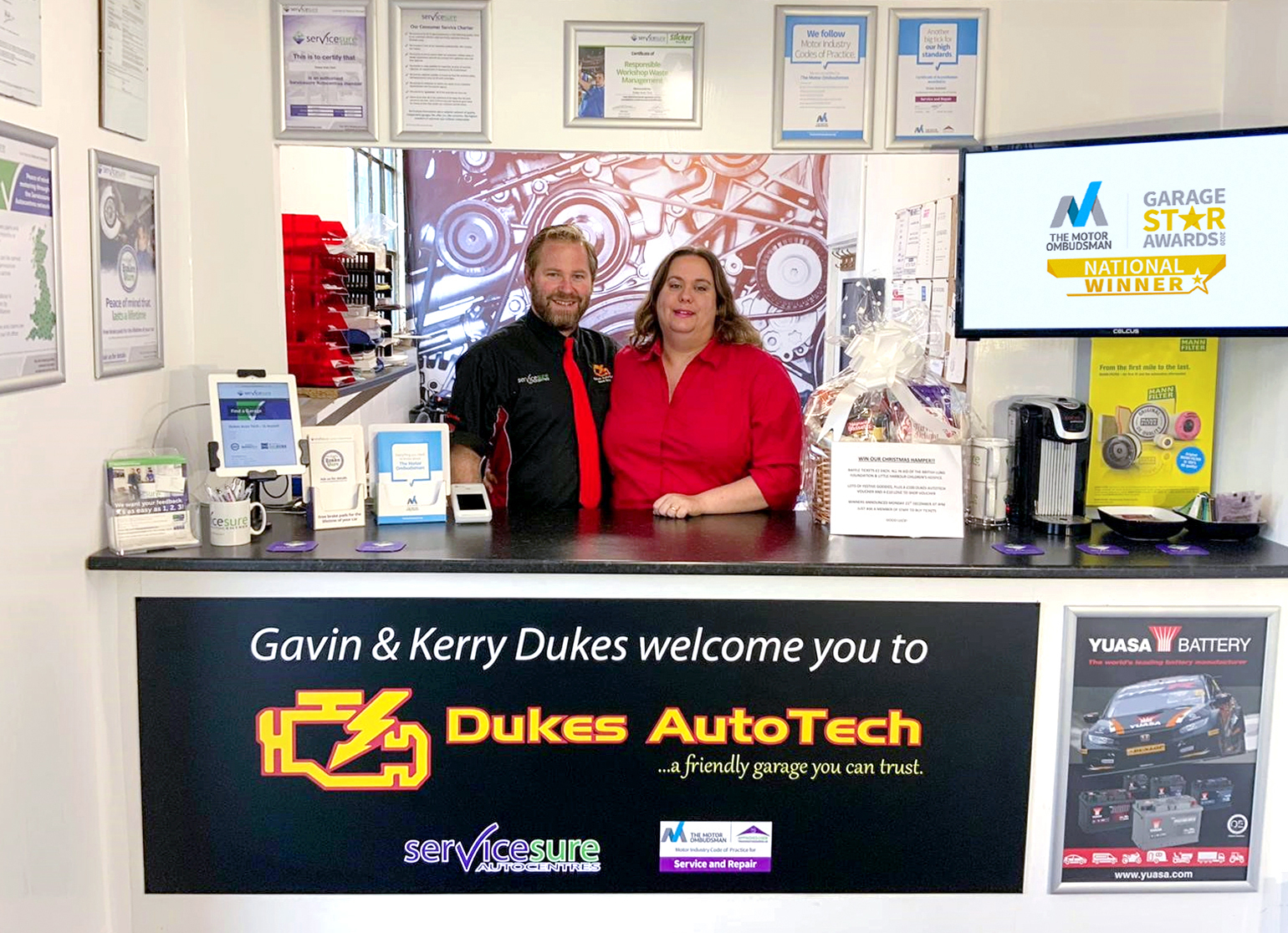 Dukes AutoTech in St Austell has scooped the national winner's trophy in The Motor Ombudsman's inaugural Garage Star Awards
Over 800 customer nominations were submitted for garages up and down the country
It was one of two trophies to be won by the independent garage in Cornwall following their win in the western region of the competition
The business beat the first-place finishers of the other seven regions in the contest
The exceptional service and care provided to a customer after their car broke down was deemed worthy by judges of the overall prize in the contest
The Motor Ombudsman is pleased to announce that Dukes AutoTech in St Austell, Cornwall, has been named the national winner of its inaugural Garage Star Awards.
The initiative was launched this year by the Ombudsman dedicated to the automotive sector to recognise individuals, teams and garages within its nationwide network that had gone the extra mile during the last 12 months when assisting customers with a vehicle purchase or work on their car.
Over 800 nominations were received from consumers for garages up and down the country, which were then whittled down by The Motor Ombudsman according to a strict set of criteria to create a shortlist of just three finalists for each of the eight regions that had been earmarked for the contest. The 24 finalists were then passed to four judges, who included members of the Chartered Trading Standards Institute (CTSI), to determine the recipients of the winners' trophies based on the extent to which they had excelled in providing customers with a far superior level of service and work than what would normally be expected.
The panel unanimously put forward Dukes AutoTech to be the recipient of the regional Garage Star trophy for the West, thanks to a nomination from a consumer that left the judges moved. The independent garage was praised for their multiple acts of kindness and empathy shown to the individual whose car had broken down, and how they went above and beyond to help someone in a difficult situation. Dukes AutoTech called the customer right up until the point the recovery service arrived, who was then greeted at the garage with a freshly brewed cup of coffee, as well as a very caring and reassuring approach to comfort them in a distressing situation.
Furthermore, they took the vehicle owner home, but once again went out of their way to visit a local shop so that the vehicle owner could pick up some essentials. If this wasn't enough, Dukes AutoTech also collected the consumer when their car had been repaired, and arranged for the payments for the work to be staggered to make the entire experience as stress-free as possible.
After grabbing the attention and being praised by the Garage Star Award judges in the regional round, this very nomination was then deemed to be worthy of the national trophy and £500 in vouchers when pitted against the other glowing testimonials left by consumers for the other seven regional winners across the UK.
Kerry and Gavin Dukes, the husband and wife Partners of Dukes AutoTech, said: "In what has proved to be a challenging year for our business, we are delighted to finish 2020 on a high by winning not one, but two Motor Ombudsman Garage Star Awards. To have claimed both a regional and national trophy is a true honour, and we are very grateful to all those who took the time to submit such nice testimonials about us. Our philosophy of making sure that our customers receive the best possible level of work and service in everything that we do has clearly paid off, and we will certainly be celebrating this early Christmas present with our team."
Bill Fennell, Chief Ombudsman and Managing Director of The Motor Ombudsman, added: "We would like to congratulate Dukes AutoTech on their fantastic achievement of being named a double winner in our first ever Garage Star Awards. It was a closely fought contest, so we had a really tough job of choosing the winners, but this independent garage ultimately stood head and shoulders above the rest, and we are very proud that they are part of our accredited network. Our inaugural awards have been a great success, and we would like to thank everyone who has taken part. We are already looking forward to inviting entries for our 2021 competition."
For more information on Dukes AutoTech, a garage accredited to The Motor Ombudsman's CTSI-approved Motor Industry Code of Practice for Service and Repair, visit https://dukesautotech.co.uk.
ENDS
Notes to editors
About Dukes AutoTech
This was just an empty shell back then which has transformed into a busy, modern and spacious workshop to provide customers from all over Cornwall and beyond with expert servicing, repairs and maintenance.
The team here at Dukes AutoTech, St Austell, possess a wealth of knowledge and expertise. Gavin is fully qualified and has over 25 years' experience in the automotive repair business; between them, Gavin and our team of qualified technicians have over 75 years' experience in the motor trade. Furthermore, Kerry has a degree in Engineering and a background in business management and customer service, so while she manages the front of house and marketing for the garage, she is not afraid to get her hands dirty.
The team all have their own areas of expertise and a wide range of skillsets, meaning that whatever the needs of your vehicle, we will be able to help. They train their team extensively via Our Virtual Academy, a specialist Automotive training provider, so they are all always up to date with the latest training and technology.
Dukes AutoTech, a Servicesure Autocentre, treats all customers with respect and courtesy and in a professional manner, making sure they understand what needs doing to their car and why and how much it will cost. They charge very fair prices for a level of service and expertise that is difficult to find anywhere else.
Dukes AutoTech contact:
Kerry and Gavin Dukes
Dukes AutoTech
Greensplat Road
St Austell
Cornwall PL26 8XY
Tel: 01726 337171             E-mail: info@dukesautotech.co.uk