When a business is accredited to The Motor Ombudsman, we expect them to comply with our Codes of Practice and any decisions that have been reached by our organisation during the Alternative Dispute Resolution (ADR) process.
We take it very seriously if a business does not comply and we will do everything we can to help conclude your case. However, on the rare occasion that a business refuses to engage with our service – for example, by failing to pay an award to a consumer – we may have to consider expelling that business from our scheme.
Expelled businesses: Frequently Asked Questions
What happens if a business refuses to comply with our Codes and decisions?
We follow the following process before a business is expelled: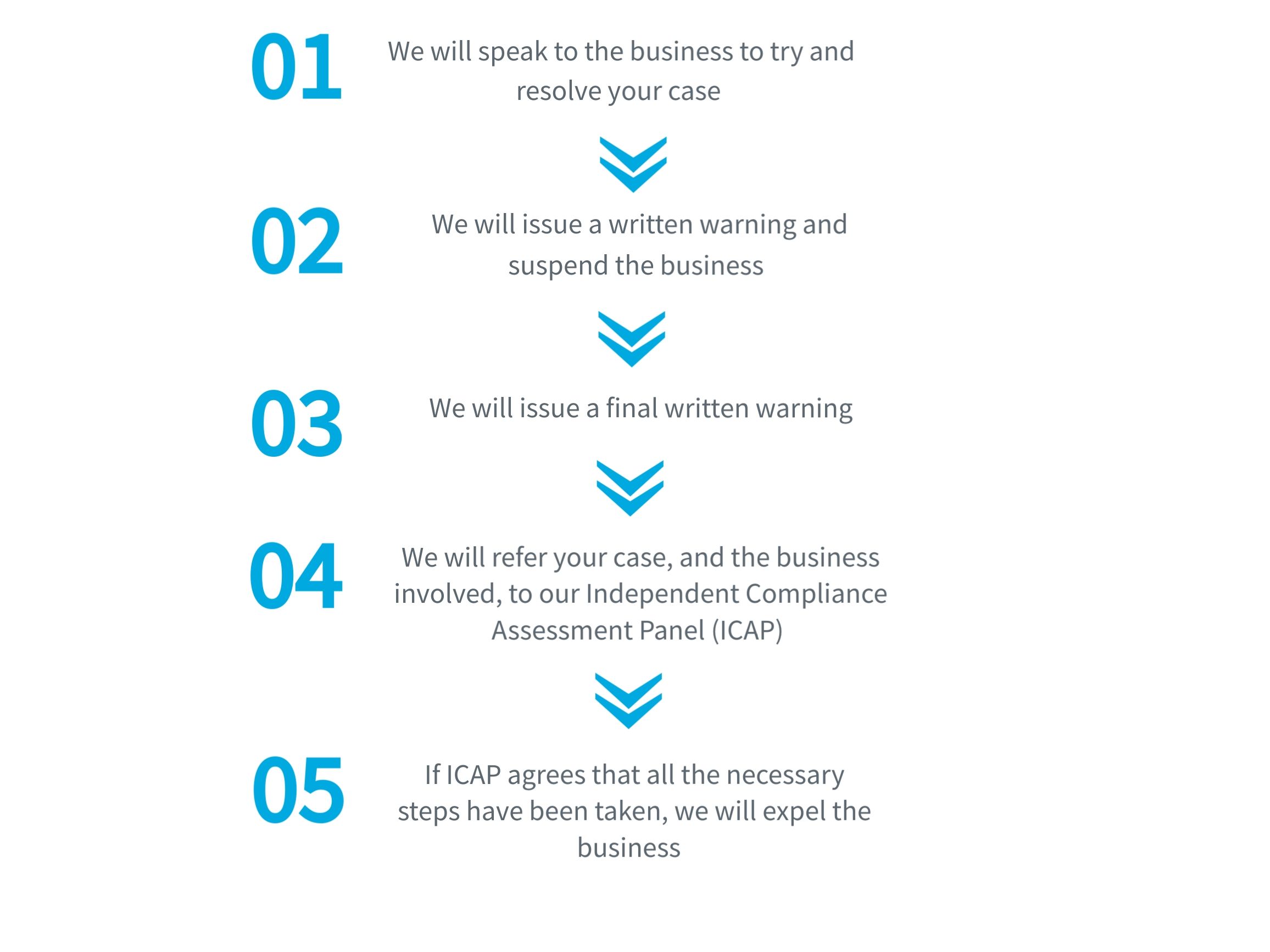 What role does the Independent Compliance Assessment Panel (ICAP) play?
The Independent Compliance Assessment Panel (ICAP) monitors the effectiveness of our Codes of Practice and whether our accredited businesses are complying with our recommendations and awards. Set up in 2015, it is completely independent from our organisation, and is made up of members from a variety of different backgrounds, including other Ombudsman schemes and the consumer lobby.
If a business is found not to be complying with us, this could be by repeatedly refusing to provide a business file or failing to settle complaints, they can be referred to ICAP, who will decide what actions to be taken against them.
What are the implications for a business when we expel them?
When a business is expelled, they will no longer be able to access the benefits of accreditation to our organisation. This means that:
They will not be able to direct you to us for Alternative Dispute Resolution (ADR);
They will have their profile immediately removed from our online Garage Finder;
They will not have permission to display The Motor Ombudsman and Consumer Codes Approval Scheme (CCAS) logos on their website or at their premises; and
We may assist in any ongoing investigations into an expelled business by other regulatory bodies, such as the Chartered Trading Standards Institute (CTSI) and the Financial Conduct Authority (FCA).
What happens to your case when we expel a business?
When one of our accredited businesses is expelled, your case will be closed, and we will no longer be able to assist in the resolution of your dispute. This means that we will also not be able to look at any other complaints about this business that may arise following their expulsion.
Whilst we will not be able to help, you still have your legal rights and can take the business to court. This would be at your own cost so you may want to get some guidance from Citizens Advice. You can call them on 03454 04 05 06 or visit their website for more information.