The Vehicle Warranty Products Code aims to drive up standards across a wide range of automotive warranty and insurance products, by committing subscribers to higher standards than required by law. The code currently represents about 70% of the industry's major providers that administer over three million products and is fully approved under the Trading Standards Institute (CTSI) Consumer Codes Approval scheme (CCAS).
The Vehicle Warranty Products Code commits warranty administrators to standards laid out in the Code regarding:
Advertising
Point of sale obligations
Clarity of information
Complaints handling
What The Code Means To You
The code provides you reassurance that subscribers will comply with the following promises:
Advertising products honestly and ensure you are given appropriate advice in selecting a suitable product at the point of sale.
Give clear pre-contractual information to so that you can make an informed decision on the suitability of a warranty
Give clear information on what is covered under the warranty
Provide a cancellation period of at least 14 days
Ensures that subscribers have in place a simple claims procedure to fairly and promptly process your claim or request for roadside assistance.
What The Code Covers
Mechanical breakdown insurance (MBI)
Service contracts (guarantees/extended warranties)
Roadside assistance
MOT insurance
Tyre insurance
Alloy Insurance
Key insurance
Cosmetic Insurance
Guaranteed asset protection (GAP)
Vehicle replacement insurance (VRI)
Return to invoice insurance (RTI)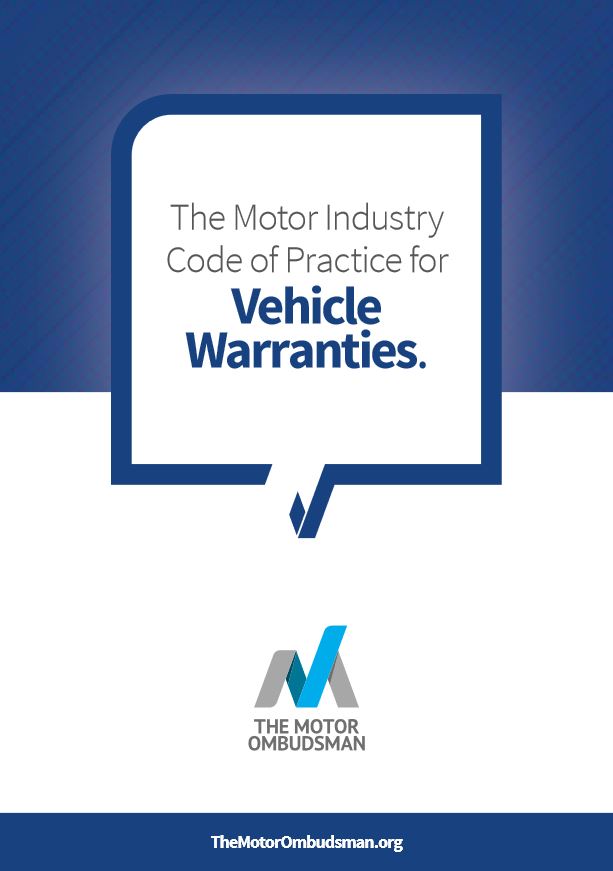 ---
Accredited Businesses
Accredited warranty providers administer in excess of 3 million vehicle warranty products. Motorists can rest assured that each product complies with the code of practice.
The following businesses are accredited to The Motor Industry Code of Practice for Vehicle Warranty Products:
Want to know more about your vehicle warranty?
Take a look at our quick reference guide on some of the most frequently asked questions regarding vehicle manufacturer warranties and extended warranty agreement.
Need help with resolving a dispute?
If you have have you complaint with a Vehicle Warranty Product Provider, you  can find more information about how to use our service to resolve your dispute here.
Leave feedback about your warranty provider
You can leave feedback about your warranty product provider by completing our short online survey.