TMO Talks To

 Nicola Piercy, Director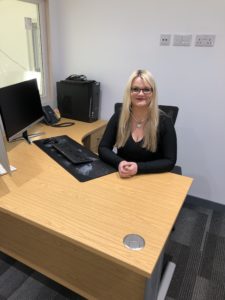 Founded in 2008, and based in Douglas on the Isle of Man, Auto Solutions Ltd. is a modern garage with a fresh, dynamic outlook, providing exceptional quality in vehicle servicing and repairs at highly competitive prices.
TMO: How long have you worked at your business?
NP: I started working for Auto Solutions 10 years ago part time, well I say part time, but it was on top of my full time job in an investment company! I have worked here full time for the last five years.
TMO: Why did you choose to work in the automotive industry?
NP: Well, it is a bit of a long story. Back in 2008, our son Owen, who was aged nine at the time, was involved in a very serious accident (he was lucky to be alive) whilst on holiday in Majorca. When we were finally able to come home, Owen had a lot of rehabilitation and wasn't able to go back to school. So my husband Paul, a vehicle technician, looked after Owen full time until he was able to go back to school. It was really hard with just the one salary coming in, but we did it. Paul's dream was always to have his own business, and with what had happened to Owen, it just makes you realise how precious life is and you have to make the most of it. We got through this, and had some savings, so we decided to start up our garage and so Auto Solutions was born!
TMO: What do you most enjoy about your job and your work in the service and repair sector?
NP: Two words, "people" and "cars". I am a people person who loves cars! I am very lucky we have the most amazing customers, from office juniors, to fleets, to CEOs of large organisations, and a fabulous team who are not only really skilled at their job, but are genuinely really lovely people. This industry is very demanding and challenging, and every day is different. Vehicle servicing and repair is often a minefield to people, and we regularly meet people who have had very poor experiences and find it difficult to trust, which we totally understand. However, we listen and we will spend the time with the consumers going through their concerns to help them as much as we can. It is so rewarding to see these people trust us and truly know that we are professionals in our industry and that we genuinely care about them and their vehicles.
TMO: What are your career highlights?
NP: I won a prestigious award and got to fly business class to Disney World in Florida, where I received customer service training from the best in the industry, Disney! I got to go behind the scenes and l took so much away from this amazing experience! Also, being asked by you, The Motor Ombudsman for this website feature is amazing!
TMO: What do you do to encourage more women to take up a role within a garage or the motor industry?
NP: We will shortly be getting involved with local schools, where we will be meeting students making their career decisions and we will help as much as we can. We need more females in the industry!
TMO: How many female staff work for you, and in what roles?
NP: Currently there is only me – we need more females in this industry. Currently we have nine males and me – come on ladies!
TMO: What do you think the main challenges will be for your business this year?
NP: We have a few challenges this year. We have just expanded the business, and now have another 5,000 square foot garage for the larger commercial vehicles which we have refurbished and have installed a large amount of new tooling and specialist equipment. We have also nearly completed our new offices, so they are twice the size, and there is a lovely, bright and airy reception area for our customers and improved facilities for our team. In addition, we are introducing a very sophisticated bespoke system next month, which means that our vehicle technicians will be working and reporting from tablets and taking videos and photographs to help our customers understand any areas of concern. We are also looking for another Vehicle Technician – male or female!
TMO: What approaches do you use, or what events do you run to make female customers more at ease with using a garage like yours?
NP: We all genuinely go out of our way to help any female customers coming in to the garage to explain how we operate and how we can help them. We also inform our customers about The Motor Ombudsman and that it is the automotive dispute resolution body should there by an issue that we can't sort out. Fully-impartial, it is the first ombudsman to be focused solely on the automotive sector, and self-regulates the motor industry through its comprehensive Chartered Trading Standards Institute approved Codes of Practice. These drive even higher standards of work and service, and give consumers added protection, peace of mind and trust when having their vehicles serviced and repaired by us. It is so important for people to know that they are in safe hands.
We recently had a lovely elderly lady come into the garage, very nervous as she had not long lost her husband and didn't know what to do about her car. I really felt for her – it was such a sensitive time and I just took the time and chatted with her with a cup of tea and explained everything in a down to earth jargon-free manner.
We also hired a stall at our local agricultural show and were on hand to help answer any questions about their cars, the industry – we met a lot of people, had great fun, and I did notice that being the only female, that a lot of females approached me – Sorry I know I keep saying it, but we need more females in the industry!  I was even interviewed by our local radio station and one of the team secretly filmed me and put some of it on our Facebook page! Anyone that knows me, knows that I don't like photographs, videos, being interviewed, but I am so passionate about what we do – I just do it!
TMO: How does your business benefit from being accredited to The Motor Ombudsman's Motor Industry Code of Practice for Service and Repair?
NP: I cannot stress the importance of ensuring people feel safe – this is something that I learned from my Disney Customer Service training. I genuinely believe from being accredited to The Motor Ombudsman's Motor Industry Code of Practice for Service and Repair, it helps people feel safe and this has benefitted us greatly. It ultimately shows our customers that we are serious about what we do and are professionals. So much so, we have been accredited from the day we started our business 10 years ago – start as you mean to go on!
Interview conducted in conjunction with International Women's Day on 08 March 2019.