TMO Talks To

Jon Horsley, Owner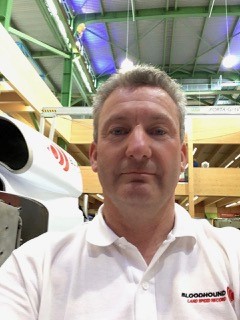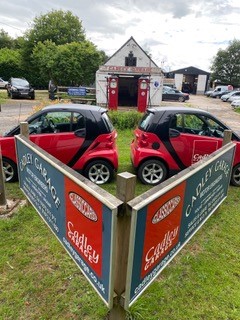 Cadley Garage is an independent and friendly garage located just outside Marlborough on the A346 in the picturesque county of Wiltshire. The business provides MOTs, servicing and repairs for all makes and models of cars, but specialises in the maintenance of Volvo, Jaguar, Land Rover and Mini vehicles. They also have the facilities to carry out welding and fabrication work, bodyshop repairs and sourcing cars. We caught up with Jon Horsley, Owner of Cadley Garage, to find out more.
TMO: We have read that you have a passion for classic cars, and are also a Bloodhound Ambassador. How did both of these interests come about?
JH: I have always had an interest in cars and all things mechanical. I was probably inspired by my father Harry who was a horologist (a person who makes clocks or watches), and we come from a very long line of gunsmiths. Some of the family back in 1908 decided to create their own internal combustion engine based on a disc overhead valve arrangement. With patents in place, they built four engines and assembled, registered and raced their own car. This is actually a project I am trying to piece back together, but that's another story!
This interest has also led me to become part of the Beaulieu One Hundred Club (by invitation) to work with them and the Trust in promoting and helping the museum with various projects. As far as Bloodhound is concerned, I followed the Thrust projects with Richard Noble very closely, and about six years ago, I got involved as a Bloodhound Ambassador, helping at events and working to inspire children through science, technology, engineering and mathematics (STEM subjects) to pursue engineering careers. I have been very lucky to have worked on various events with Ian Warhurst, the new owner of Bloodhound.
TMO: What do you enjoy most about your current job?
JH: The great thing about what I do within the business is that, every day I will be doing a different role, meeting different people and learning about other subjects. As far as work coming into the business is concerned, we don't like to say no, so every day is a school day!
TMO: What sets Cadley Garage apart from other independent car repairers in the area?
JH: As a business, we consider ourselves to be part of the community – we have a large loyal customer base that is continually growing, mostly through personal recommendation. We don't really advertise, but instead use that budget to help finance local charities and projects. Hopefully, we get mentioned in the local news.
TMO: We see that you invite every customer to become a member of your Carbon Offset Programme – OAC (Offset Alliance Campaign), where you plant a tree in community spaces for every service carried out. How did this idea come about, and what has the reaction been like from customers?
JH: The OAC came about after a long conversation with one of our customers who lives locally, but travels to London regularly. Their normal London transport had broken down, and it had been left with us to repair. The customer took their Land Rover to London instead, and had a lot of negative comments from their London friends about the environment.
We understand that a lot of people in rural areas have these kind of vehicles out of necessity, so to lessen the environmental impact, regular servicing and correct wheel alignment is essential. To encourage and speed up that process of helping the environment, Cadley Garage pledged to plant a tree in community spaces for every service carried out, and up to this point, we have pledged or planted the equivalent of 3,200 trees!
TMO: What impact has the Coronavirus pandemic had on Cadley Garage?
JH: We took the decision right at the beginning to discuss all the options with staff and to see if we could continue to support Key Workers and the wider community. A protocol was put in place that included taking the temperatures of all staff members first thing and recording them. Also, I agreed to collect the majority of cars coming in for work by reducing the contact between customers and staff. This was achieved by utilising nine of our work/loan cars as drop off cars. This meant that I would go to the customer's house masked and gloved, and I would then sanitise their car and bring it back to the garage to work on it. On completion, we will contact the customer over the phone to explain what we had done and to take payment. Some days we are collecting, sanitising and repairing nine cars, as well as doing the work for the cars that are dropped off. Communicating with all our staff members and agreeing a protocol has allowed us to remain open throughout without having to furlough anybody.
TMO: What type of assistance have you been able to provide to Key Workers and the emergency services since the lockdown started in March?
JH: For Key workers, we have also collected cars, but have allowed them to use our vehicles as courtesy cars. We have also given them preference when making a booking. If we haven't been able to repair their car quickly due to a difficulties with the parts supply, we have made sure they have a vehicle to use until theirs is ready, and all this is at no charge to them.
TMO: What signage are you displaying to help protect staff and customers from the risks posed by COVID-19?
JH: We have signage in place to remind customers to keep socially distant and wear face protection if inside the business, and we also keep to one customer in the reception at any time. In addition, we make sure that no staff member uses the customer toilets, and that hand sanitiser and antibacterial wipes are available for customers. PPE, such as gloves, masks and all hand cleaning products are available for the staff.
TMO: From what you have seen, have you noticed a change in the commitment of customers to car maintenance, or have they kept to their existing MOT and servicing schedules?  
JH: The majority of our customers have understood that, come October and November, there will be a very high demand for MOT tests. So, in view of that, they have continued to book in cars for MOTs and servicing to keep all the due dates in line. Obviously, this keeps the vehicle in a roadworthy state as per the UK Government's guidelines, and gives the customer peace of mind. We have been kept very busy throughout.
TMO: Going forward, what do you think will be the main challenges for Cadley Garage?
JH: There are many things that COVID-19 has made us do differently – some of these things are for the better and will become part of our daily service offered to customers, and part of best practice. Businesses that can adapt quickly should find a very healthy market going forward. I appreciate it is not possible for everyone, but you need to be creative and flexible during these times.
TMO: Thank you for your time Jon, and it has been a pleasure talking to you.
Interview conducted in July 2020.