TMO Talks To

 Michelle Leonard, Director 
Nightingale Service Centre is an established family-run business offering a comprehensive range of garage services for private and commercial customers in Horsham, Billingshurst, Pulborough, Crawley and the surrounding areas of West Sussex. Their philosophy has always been to provide a reliable and honest service with full care and personal attention. We caught up with Michelle to find out more.
TMO: How long have you worked at Nightingale Service Centre?
ML: I helped set up the business 14 years ago. I initially worked part-time in the office, but following redundancy, I joined full-time 12 years ago.
TMO: Why did you choose to work in the automotive industry?
ML: I have an engineering background, and my partner is a qualified mechanic. We wanted to open a garage that people would be happy to go to and recommend to their mums, sisters and girlfriends. I had numerous horrendous experiences with my previous company car. Garages didn't listen to me, and I always had the feeling that I had to take a male colleague with me just to get my tyres changed.
TMO: What do you most enjoy about your job and your work in the service and repair sector?
ML: I deal with all the administration and bookkeeping required to keep the garage open. It is a varied and often hectic role. On a day-to-day basis, I don't often come into contact with the customers, but when I do, that is possibly the best part.
TMO: What are your career highlights?
ML: At the garage, I would say that it is when we receive positive customer feedback that proves we are achieving what we set out to when starting Nightingale Service Centre. We were determined to build a garage where everyone would feel welcome, and most of all, trust. When we receive lovely feedback, letters, and even gifts, it makes the hard work worth it.
TMO: What do you do to encourage more women to take up a role within a garage or the motor industry?
ML: We have offered work experience places to a local girls' school when there has been interest.
TMO: How many female staff work for you, and in what roles?
ML: Currently it is only me (unless you count our dog Millie who is here with me every day), but we have employed female service advisors in the past.
TMO: What do you think the main challenges will be for your business this year?
ML: The challenges for the business remain the same with increasing costs and trying to remain competitive without ever losing quality. Keeping up-to-date with new and ongoing technological changes, having access to parts where they may have to be imported from EU, and concerns over any potential changes affecting Block Exemption, are other key considerations.
TMO: What approaches do you use, or what events do you run to make female customers more at ease with using a garage like yours (e.g. customer/open evenings)?
ML: We don't have an approach specifically for women, as we want everyone and their vehicles to be treated with the upmost respect.
In the past, we have run open evenings and small events offering advice and learning about how to change tyres, check fluid and explain different things about car maintenance. These were really popular, and not only with women. We don't only look after the usual cars, but we help to maintain a large number of very unique cars. We were able to get a stand at a local car show with these customers and their families who showing their cars off. A number of our customers joined us throughout the day for a picnic.
TMO: How does your business benefit from being accredited to The Motor Ombudsman's Motor Industry Code of Practice for Service and Repair?
ML: Being accredited shows we take our responsibilities as a garage and to our customers seriously. I never want a customer to feel they can't talk to us if they have concerns, but should a customer wish to do so, they can contact The Motor Ombudsman.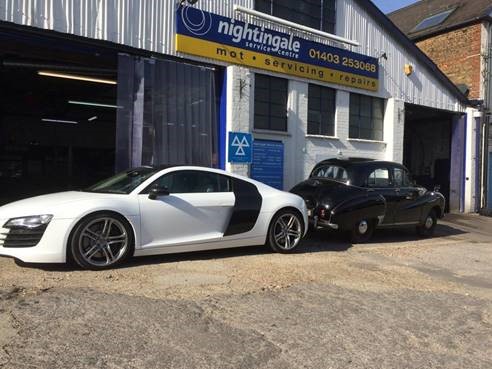 Interview conducted in conjunction with International Women's Day on 08 March 2019.