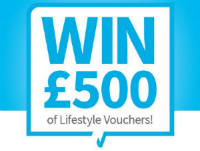 David from Monmouthshire has started 2021 on a positive note after being named the lucky winner of £500 in Lifestyle Vouchers. He was chosen at random in the latest prize quarterly draw from the hundreds of consumers who rated and reviewed a business on The Motor Ombudsman's online Garage Finder in the final three months of last year.
David visited the Hereford Audi car dealership on Legion Way for his Audi's annual service, and left the following praise for the business:
"I highly recommend this dealership. I recently bought a car, and was looking for a garage to service and maintain it, and would be one that I could trust – I've definitely found that here. The work was completed promptly, and the staff are great, especially Cara in service, who is amazing!"
David added: "When it was time to pay, the bill was considerably less than I was expecting. In summary, Hereford Audi is a quality garage with quality staff, so it's exactly what you need and expect after buying a quality vehicle."
To be in with a chance of winning £500 in Lifestyle Vouchers in the next prize draw, which takes place at the beginning of April 2021, simply visit our Garage Finder and search for the profile of the business that you have used to either buy, service a repair or car. You can then leave a rating and a short review based on your experience.
Image courtesy of Hereford Audi