The Motor Ombudsman looks at some of the main reasons behind electric vehicle (EV) disputes
The Motor Ombudsman's Motor Industry Codes of Practice for Vehicle Sales and Service Repair cover all alternatively-fuelled vehicles (AFVs), including electric vehicles (EVs), within their remit.
With disputes occasionally brought by consumers to The Motor Ombudsman due to issues with their EV, an analysis has been conducted to explore some of the main reasons behind cases seen in 2020. They are as follows:
The range did not meet the expectations of the consumer versus the figure quoted by the seller or vehicle manufacturer for a full charge;
The car was not compatible with rapid chargers;
The battery capacity in the car that was delivered differed in specification from the one that was ordered by the customer;
There was a delay in the supply of charging components by the vehicle manufacturer;
Power and transmission faults were encountered with the vehicle post-purchase;
The overall purchase price increased due to the Office for Low Emission Vehicles (OLEV) plug-in grant not being applied for in time by the seller; and
An issue could not be diagnosed due to a dealership not having staff qualified in the repair of EVs i.e. a high voltage technician.
The infographic below provides a more detailed overview of the types of EV disputes that were seen in 2020 under six main categories: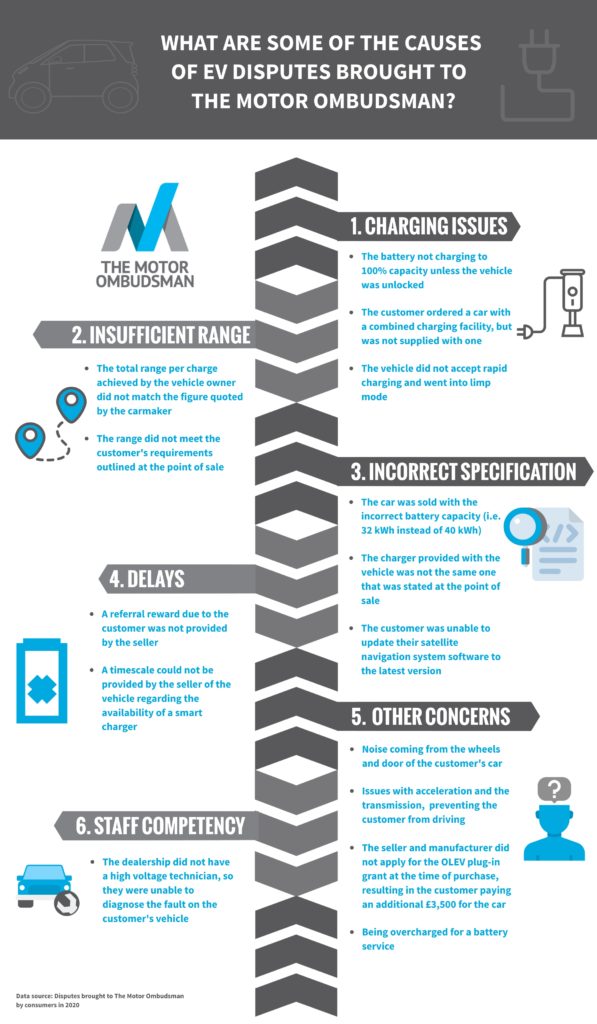 To view the Electric Vehicles category on the Knowledge Base, click HERE.