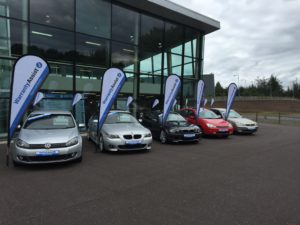 Warranty Assist, the dealer extended warranty service, is pleased to announce that it has gained accreditation to The Motor Ombudsman's Chartered Trading Standards Institute (CTSI)-approved Vehicle Warranty Products Motor Industry Code of Practice. This brings the total number of businesses signed up to the comprehensive Code offered by the automotive dispute resolution provider to 12.
The Motor Industry Code of Practice for Vehicle Warranty Products was introduced in 2009 for the purpose of driving up standards beyond those required by law for the provision and term of automotive warranties. This includes service contracts (guarantees and extended warranties), Guaranteed Asset Protection (GAP), roadside assistance and Return to Invoice (RTI) insurance, amongst other insured and non-insured products.
The Code of Practice demands that all accredited companies follow a series of commitments to customers including accurate and honest advertising, a simple claims process and clear information regarding what is covered in the policy. Accreditation also brings the benefit to garages of elevating their warranty protection to a higher standard, by giving their customers access to The Motor Ombudsman's free and impartial alternative dispute resolution (ADR) service, should Warranty Assist not be able to conclude an issue with a consumer through its own complaints process.
Duncan McClure Fisher, Managing Director at Warranty Assist, said: "The choice to apply for accreditation to The Motor Ombudsman was motivated by its unequalled sector-specific experience and expertise. Being a part of the Vehicle Warranty Products Code provides our customers with the added peace of mind that we are following best practice guidelines in the provision of our products and services. In addition, motorists also have the guarantee that they have a neutral organisation to refer to in the rare event that we are unable to successfully conclude a problem internally."
Bill Fennell, Chief Ombudsman and Managing Director of The Motor Ombudsman, added: "We are very pleased to welcome Warranty Assist to the Vehicle Warranty Products Code. They are an established and reputable business in their field, and expanding the number of businesses accredited to our Code ultimately gives today's consumers even greater market coverage when purchasing an extended warranty policy. We look forward to a long-term relationship with Warranty Assist."
For more information about Warranty Assist, visit www.warrantyassist.co.uk.
For more information about The Motor Ombudsman, visit www.TheMotorOmbudsman.org.