The Motor Ombudsman sees a small decrease in electric vehicle disputes for the third quarter
Disputes brought to The Motor Ombudsman by consumers about electric vehicles (EVs) posted a small decrease in the third quarter of 2023 (287), compared to the previous three months (291), although this was still slightly higher than the figure seen in Q1 (273).
However, overall EV complaints recorded during the first nine months of 2023 remain few in number (851), and represent less than 1% of all new EV registrations in the UK on an annual basis, thereby illustrating a positive purchase and ownership experience for today's EV adopters.
Broken down by category, the issues encountered by consumers during Q3 are as follows:
1. Customer service and purchase issues (29%)
Mirroring the trend seen so far this year, customer service issues at the point of buying an EV and during the subsequent ownership experience, which ranged from administrative errors to spare part supply delays, have continued to drive the majority of complaints about battery-powered cars during the last quarter. However, encouragingly, these fell as a percentage of EV disputes from 31% to 29% between Q2 and Q3.
For disputes relating to the purchase of an EV during the last quarter, 57% of complaints stemmed from a new car, with the remaining 39% originating from acquiring a used vehicle, which can be expected given the relative infancy of the second-hand EV market.
2. Chassis and motor issues (20%)
The proportion of complaints relating to the chassis and motor areas of the vehicle remained at a fifth – unchanged from the figure seen in Q2, with faulty suspension arms, corrosion on alloy wheels, and tyres in a poor condition, leading to disputes being logged with The Motor Ombudsman in Q3.
3. Electrical and software issues (15%)
In contrast, problems resulting from the electrical systems and software were up very slightly from quarter to quarter, from 14% to 15%. Traction system failures, and poor connectivity levels, were amongst the concerns reported by consumers.
4. Battery issues (10%)
Battery issues have also climbed a couple of places to fourth in the eight largest sources of EV disputes, and became more prominent, accounting for 10% of complaints in Q3 – a rise of four percentage versus the preceding quarter (6%). Batteries failing, and draining too rapidly, were factors encountered by EV owners, subsequently leading to complaints.
5. Interior and cabin systems issues (10%)
Similarly, interior and cabin systems drove the same percentage of disputes (10%) during the past three months (up from 8% in Q2), with displays malfunctioning, and problems with the actual internal fixtures themselves, such as roof linings detaching from convertible soft-tops, and creases developing in seat coverings, all leading to an element of dissatisfaction.
6. Exterior issues (9%)
Exterior issues reported a positive one-percentage point drop, from 10% in Q2 to 9% in Q3, and these were centred around defective elements of the bodywork. These included, scratched and incorrectly bonded windscreens, and door trims coming loose.
7. Charging issues (6%)
Disputes in relation to an EV's charging system also rose very slightly in the third quarter (from 5% to 6%) in Q3 2023 due to problems encountered by vehicle owners, as opposed to with the charging infrastructure. Faults that occurred on this part of the vehicle, were namely charging flaps not opening, and cables not engaging correctly, whilst intermittent charging also caused frustration for EV owners.
8. Range issues (1%)
Range concerns, which principally result from consumers not achieving the advertised distance for a full charge, drove the fewest number of disputes during the third quarter (1%), falling five percentage points between quarters. This is not unsurprising, given the onset of warmer weather, and the subsidence of reported issues that occur during periods of colder temperatures. However, range concerns may start to spike again if the UK experiences icy conditions and sub-zero readings during the latter part of the fourth quarter – as the autumn gives way to winter.
Average consumer claim value
For consumers who stated a monetary value to resolve their dispute, the average stood at £9,026 for the past three months –  the lowest quarterly figure seen so far this year.
To view and download the infographic below as a PDF, please click here.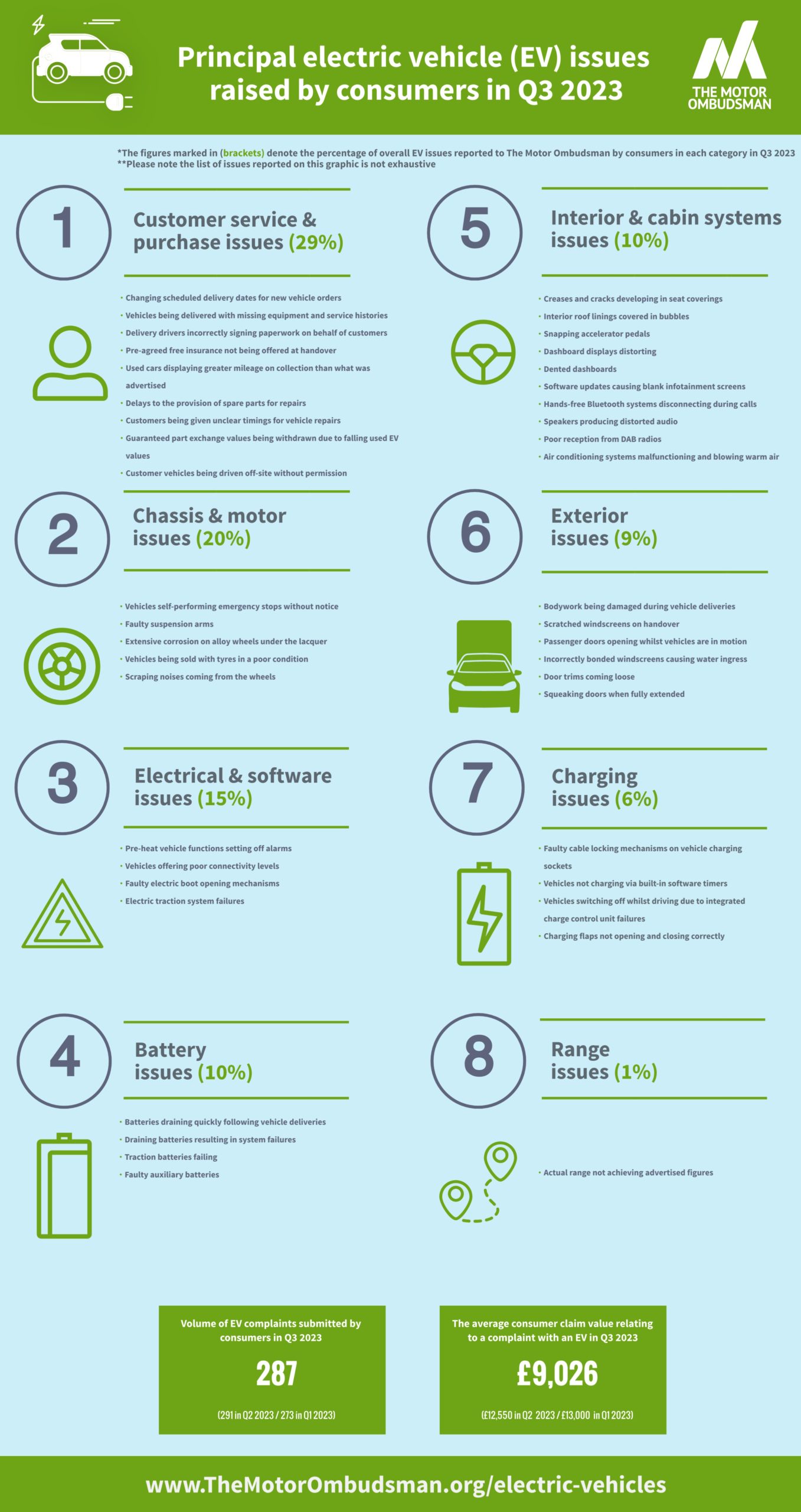 To view and download The Motor Ombudsman's thought leadership paper on electric vehicle disputes as a PDF, please click here.