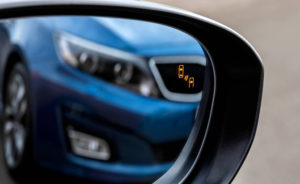 This week's "Getting to Know" guide focuses on what blind spot monitoring (BSM) technology is and how it works.
What is blind spot monitoring?
Blind spot monitoring, BSM, or a blind spot information system, depending on the term used by the vehicle manufacturer, is a type of technology which was first introduced by Volvo more than a decade ago. Blind spots can be a cause of accidents, simply because when a car changes lane, the adjacent vehicle could no longer be seen in the rear view or side mirrors, and may be obscured by the A-pillars. Therefore, blind spot monitoring is most effective when your car is passing another vehicle, being passed, or when you're preparing to make a lane change.
How does it work?
Although some use cameras, the majority of blind spot monitoring systems rely on radar sensors which are often located under the rear bumper or side view mirrors. They monitor the areas behind and next to your car. The detection area covers approximately one lane width on both sides of the vehicle, and extends from the side view mirrors to approximately 10 feet beyond the rear bumper.
A visual alert, which is usually yellow in colour, will flash in the wing mirror on the relevant side of the car to alert the driver that a vehicle is in the blind spot. It will then go out when the passing car is either alongside you or is in front of your vehicle.
Do blind spot monitoring systems also detect passing motorbikes and pedal cycles?  
Blind spot monitoring systems do not tend to be configured to detect two-wheeled vehicles on the road such as motorcycles and bicycles, so extra care is needed when passing them. The same degree of attention also of course applies even if you don't have the technology fitted to your car.
Where can I find a garage to buy a car fitted with blind spot monitoring technology?
To find a garage that sells new or used cars fitted with blind spot monitoring technology, and that is accredited to The Motor Ombudsman's Motor Industry Code of Practice for Vehicle Sales, visit www.TheMotorOmbudsman.org/garage-finder.
Image courtesy of Autoguide.com