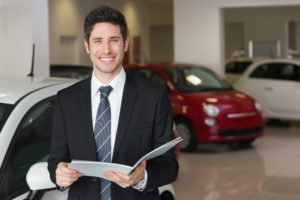 This week's "Getting to Know" guide is all about test drives, and what to take into account before, during and after you have got behind the wheel.
What is a test drive?
A test drive is an essential part of the vehicle purchase process (new or used), where you can try out the car first-hand to find out whether it will meet your needs and that it is of the right quality.
What should I take into consideration before a test drive?
If there is a specific model, engine size, transmission (i.e. automatic or manual), or trim level / grade that you wish to try, check in advance that it's available when booking the test drive. Also, to make the most of your visit, and if you have the time, it is also worth asking whether you can test more than one car, as it can be useful to compare one model to another. In addition, take the measurements of your garage or allocated parking area to ensure that your new car will fit. Furthermore, if you're looking to buy an electric or plug-in hybrid vehicle, find out if you can have a charging point installed at your home, or where your nearest one is.
What should I bring along to a test drive?
So that the independent garage or franchised car dealership can verify that it is legal for you to drive their vehicles, you will need to have your driver's licence with you so that they can check and take a copy of it. You will not need to pre-arrange insurance cover as the car will be on the business' policy. However, ask if there are any excesses to pay in the rare event of an accident or damage occurring during the drive.
In addition, think about how you will be using the car, and bring along any accessories such as a buggy or sporting equipment (e.g. golf clubs), so that you can see whether they will fit in the boot. Likewise for child car seats to see whether they are compatible with the fixing points.
 A face covering is also required when visiting a car showroom. 
How long will I be able to test the car for?
Normally, a test drive will last for about an hour, and the business will have a pre-defined route in the local area which often takes in different types of roads (e.g. residential and motorways). It is common practice for the sales representative to take to the wheel first to show you the controls, and will drive to a safe place to swap over.
Some brands now offer longer test drives so that you can see what it's like to live with the car in your own environment and as part of your weekly routine.
What should I look out for during the test drive of a car?
During the drive, you may want to consider the following*, and it's always worth taking someone with you (such as a qualified mechanic) if you are unsure as to what to look out for:
– Is it comfortable, and can you adjust the seats and steering wheel easily to the correct height?
– Is there enough head and legroom?
– Is the boot big enough for your requirements, and how do the seats fold down (i.e. a 60-40 or 50-50 split)?
– Is there enough storage in the front and rear?
– How user-friendly are the satellite navigation and audio / infotainment systems?
– Are there charging sockets for my satellite navigation system or smartphone?
– Is there Bluetooth connectivity?
– Are there any squeaks and rattles (if testing a used car especially)?
– What does the engine sound like (as this could reveal potential faults)?
– Is the gearbox shifting smoothly?
– What is the condition of the bodywork and tyres (if testing a used car especially)?
– Does it accelerate adequately when overtaking or on steep inclines, or does the car feel under-powered to you?
*List not exclusive.
What will happen after the test drive?
Following the test drive, the sales representative will often want to get your feedback on what you thought of the car or cars that you have just tried, and try to gauge when you will be looking to make a purchase. However, just because you have done a test drive, don't feel pressured into signing on the dotted line there and then. As it is a significant purchase, take the time to think it through, review all the paperwork and make sure that the car is ultimately right for you.
Where can I find a business to arrange a test drive of a car that I am interested in?
To arrange a test drive of a car at an independent garage or franchised car dealership which is accredited to The Motor Ombudsman's Motor Industry Code of Practice for Vehicle Sales, visit www.TheMotorOmbudsman.org/garage-finder.