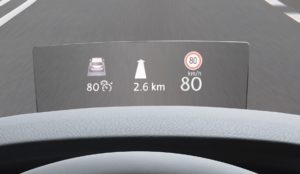 This week's "Getting to Know" quick reference guide takes a look at head-up display (HUD) technology and how it works.
What is a head-up display?
A head-up display, sometimes referred to as a "HUD", is a form of augmented reality (AR) that presents key data to the driver in their line of sight on a projected display in the windscreen.
When was this technology first introduced?
Patented by the Royal Air Force during World War II, head-up displays were first seen in commercial aviation in the 1970s. In 1988, the Oldsmobile Cutlass Supreme was the first production car to feature this type of technology.
How does a HUD work?
A projector embedded in the dashboard sends a reversed image, which bounces off a series of mirrors, magnifying and flipping the picture so that the data comes out on to the windscreen the right way up when displayed in the driver's line of vision.
What information does an HUD show you?
The graphics displayed depends on the type of system used in the vehicle. These can include speed, a road sign with the current speed limit, satellite navigation instructions, safety warnings from assistance systems such as Lane Keeping Assist and Blind-Spot Collision, as well as information about the in-car radio and audio entertainment.
What is the main benefit of a head-up display?
One of the key benefits of a HUD is safety, as the driver has to spend less time looking down at the dashboard to check data such as their current speed, meaning that they can process information up to 50% faster as it's in their line of sight.
Can you buy a HUD as an aftermarket product?
Yes, it is possible to buy aftermarket HUD systems to retrofit into older vehicles that have not been fitted with the technology.
Image courtesy of AutoEvolution