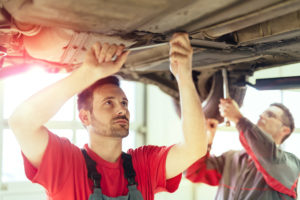 Vehicle safety recalls have been back in the news recently. This week's "Getting to Know" guide explores what they are and what to do if you have been notified of one.
What is a vehicle safety recall?
A vehicle safety recall is defined as where a car manufacturer recalls the vehicle for safety reasons under the Driver and Vehicle Standards Agency (DVSA)'s safety recall scheme.
The rules surrounding safety recalls can be found in the DVSA's Code of Practice, which defines a safety defect and describes what happens when a potential safety defect is identified.
Cars will not show as having been recalled until the vehicle manufacturer has informed the Driver and Vehicle Standards Agency (DVSA), which may take several days.
What is a safety defect?
A safety defect is a failure due to design and/or construction, common to a number of vehicles, which is likely to affect safe operation and pose a significant risk to the driver, occupants or others. This can include an electrical issue which causes a vehicle fire, or which prevents an airbag from deploying.
Who will notify me of a recall?
You may hear about a recall in the media as they are usually widely publicised, but the vehicle manufacturer should inform you if your vehicle has been affected. They will let you know what the defect is, what can happen if it is not fixed, what repair is required, and what action you need to take.
How can I also check if my car has a recall on it?
A safety recall stays open indefinitely, and you can visit the "Vehicle Recalls" page on The Motor Ombudsman website and enter your car's unique 17-digit Vehicle Identification Number (VIN) to find out whether there is an outstanding recall on it. The number can be found on the vehicle registration certificate, also known as a logbook (V5C), and on the car itself – usually on the driver's side door pillar, on the windscreen, or under the bonnet.
What should I do next?
If recall work needs to be undertaken, then you will need to make an appointment with your local franchised car dealership as independent garages are unable to carry out any recall work.
How much will it cost for me to get my car repaired if it has been recalled?
Any remedial work should be carried out free of charge no matter how much time's passed since the recall notice.
I am looking to buy a car. Who checks for any outstanding recalls?
If you buy a car from a dealership, they should have checked for any outstanding recalls as part of their pre-sales preparation, but if you buy privately, it's possible that the owner could have ignored a past recall, so it's worth double-checking the car's status online.
Can The Motor Ombudsman deal with recall-related issues?
The Motor Ombudsman can offer guidance and contact the vehicle manufacturer regarding the next steps to get the issue resolved, but cannot offer a remedy as this falls under the remit of the DVSA.