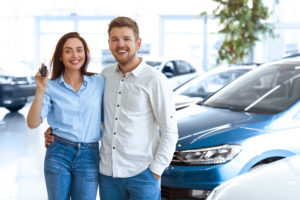 The Motor Ombudsman, the automotive dispute resolution provider, has the following tips and information for motorists looking to buy a new car.
It pays to do your research on the car…
In the digital age, there are plenty of resources on the internet to help you with your research on the different makes and models available when making a purchase. In addition to various comparison tools, several newspapers, magazines and websites regularly publish printed and filmed road tests of different makes and models, so these are always worth a read and watch. Furthermore, customer review sites and online forums can be a useful resource for a more personal perspective.
…And on the retailer
Choosing where to buy a car is just as important as the selection of the vehicle itself. Make sure that the seller, whether this is an independent garage or franchised dealership, is accredited to The Motor Ombudsman's Chartered Trading Standards Institute (CTSI)-approved Motor Industry Code of Practice for Vehicle Sales. This will mean that the retailer is adhering to the highest standards of work and service, and you will also have access to an impartial Alternative Dispute Resolution (ADR) service should you have a dispute with a business that you can't resolve directly with them. The Motor Ombudsman's Garage Finder lists all traders across the UK that are currently accredited to the Vehicle Sales Code.
Shape what you need
Cars come in all different sizes and body styles, and there is a significant amount of choice on the market. Today's model ranges span from small city run-arounds to seven-seat SUVs and high performance sportscars. Your lifestyle and what the car will be used for i.e. whether it's for the daily commute or taking the kids to school, will help determine the type of vehicle that should be on your shortlist. Where you live, and weather conditions, are also a key consideration, as a 4×4, for example, could be the most suitable option in areas where the terrain and climate may prove more challenging.
It doesn't have to be taxing
Taxing a vehicle is a legal requirement, and therefore, this should also be taken into account when looking at the long-term running costs for a new car. The VED tax bands changed on 01 April 2017 to encourage motorists to switch to greener models, which has consequently upped the cost of ownership for some cars. There are 13 bands in total which determine how much tax you pay in your first year (electric cars are tax-free). As of the second year of ownership, electric cars that cost less than £40,000 are still free to tax, whilst owners of petrol and diesel cars priced under the £40,000 threshold will be liable to pay £140 per year, with hybrids coming in slightly cheaper at £130. Cars worth more than £40,000 command an additional 'Premium' fee of £310 up to the sixth year of ownership regardless of the level of emissions.
Have it covered…
As with tax, insurance is another necessity when getting behind the wheel, and the ongoing cost of an annual policy should be carefully budgeted for. The price will also vary significantly depending on which insurance group the make and model falls into. There are many insurance providers out there, so it's worth taking the time to shop around for deals and any discounts. It's equally worth noting that the renewal price at the end of the term may not necessarily be the cheapest on offer.
Fuel your lifestyle
There are three main fuel types, and some come with a hybrid combination depending on the make and model. Each have their respective advantages and disadvantages subject to what the car will be used for. In fact, What Car? magazine has recently introduced their What Fuel? comparison tool to help make the decision-making process easier. However, some food for thought for each fuel type is as follows:
Petrol
As a general rule, unleaded petrol tends to be less expensive than diesel, and petrol cars are often slightly cheaper to buy. Petrol engines can be more refined and less noisy than their diesel counterparts, and petrol-powered cars are normally cheaper to run for motorists who frequently drive shorter distances.
Diesel
Emitting around 20 per cent less CO2 than a petrol vehicle, a diesel-powered car remains the ideal choice if you're regularly covering a significant amount of mileage i.e. more than 12,000 miles a year, as it will often be more economical than a petrol-propelled equivalent. Diesel is also considered to be more suitable if you're driving a larger car such a people carrier or an SUV, and/or are towing a trailer or caravan.
Electric
Electric cars are fast gaining popularity, and the obvious benefits of owning one are the fact that they are zero emission and are quiet to drive due to the absence of any engine noise. There are also less parts to service and no oil changes, and with instant torque produced by an electric motor when you put your foot on the accelerator, electric cars will be quicker off the line than their petrol or diesel equivalents.
Whether an electric car is suitable versus the traditional combustion engine is once again down to planned usage and lifestyle. Before making a purchase, it's important to look at what range is covered between charges, where the main charging points are along your regular routes, in addition to what the cost is to replenish the battery from empty, and how long it takes. Also, get a quote for having a charging system installed at home if you have off-road parking, as government grants are available.
Try before you buy
Just as important as doing your research is actually putting a car to the test first-hand. This is when you will truly find out whether the make and model is right for you, away from ticking the boxes in terms of the financials. A test drive is a great opportunity to ask plenty of questions, and to get a feel for how the car performs on different types of roads such as motorways and country lanes. Being at the wheel is an ideal chance to gauge the level of comfort, visibility and space, and how intuitive the built-in technology is, such as the infotainment and satellite navigation systems.
The extras matter
In addition to a plethora of options which come with the choice of specification, any extras are also worth looking out for. These can come in the form of free servicing and insurance for a specified period or a vehicle warranty which can be for as much as seven years.
Money talks
There are various ways to buy a car according to what best suits your finances. This can vary from paying outright, to opting for a personal contract purchase (PCP), hire purchase or leasing through the Motability Scheme if you qualify. Ultimately, you need to ensure that the car falls within your budget and that any monthly payments will be affordable throughout the term of any finance contract.
Check the vehicle's condition and paperwork
On the day of collection, which is an exciting time, take the time to have a walk around the car before leaving the forecourt. The bodywork should be free of any scratches and scuffs, and the specification should be in-line with what you ordered. Just as importantly, make sure that you are given all the correct paperwork, including the final invoice, a receipt of any payments, the V5C registration certificate (the logbook), the drive away insurance policy (if it's been offered by the dealer), plus the handbook and servicing schedule. The handover is also an opportunity to ask for a refresher on the car's controls before heading out on to the road.
ENDS