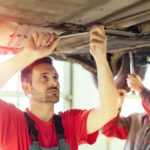 A safety recall is where a vehicle manufacturer issues a notification that a specific model needs to have a fault corrected for safety reasons under the Driver and Vehicle Standards Agency (DVSA)'s safety recall scheme.
According to the DVSA's Chief Executive, Gareth Llewellyn, 80% of recalls, which can range from the risk of fire, to a steering or airbag failure, are highlighted at an early stage by manufacturers themselves, whilst the remaining 20% comes from third parties such as customers. The number of vehicles repaired following a recall campaign in the UK exceeds 90% – one of the most successful compliance records anywhere in the world.
To find out whether an individual car, not just a model, is subject to an outstanding recall, you can visit our website's Vehicle Recalls page. Here you can enter details such as the make as well as the 17-digit Vehicle Identification Number (VIN). This can be found on the V5 Certificate (logbook) or on the vehicle itself such as on the driver's side door pillar, the windscreen, or under the bonnet.
If you do receive a recall notice, it is important that you visit your franchise dealer as soon as possible to have any defects rectified. These should be corrected at no cost to yourself as it's a manufacturing-related problem, and ultimately ignoring the fault may not only put your safety and that of others at risk, but this could also impact on any insurance claims if the recommended remedial work hasn't been undertaken. Independent mechanics or garages beyond the franchise dealer network are not authorised to do recall work in the UK.
A vehicle recall notification from a manufacturer will include:
Details of the recall;
What the repair involves;
How long it may take;
What you need to do; and
Contact details should you have any further questions
When it comes to buying a car, a garage should have checked for any outstanding recalls before making a sale. Clause 2.13 of our Chartered Trading Standards Institute-approved Vehicle Sales Code explains that Motor Ombudsman-accredited businesses should provide consumers with information that could affect their purchase, which could include a recall, as this could ultimately influence their decision. For a private sale, there may be no mention of any recalls as the owner may not be aware of any. Therefore, doing your research is even more important to find out whether the particular car has been affected in the past, and if so, whether any issues have since been corrected.
Click here to access The Motor Ombudsman's Vehicle Recalls portal.