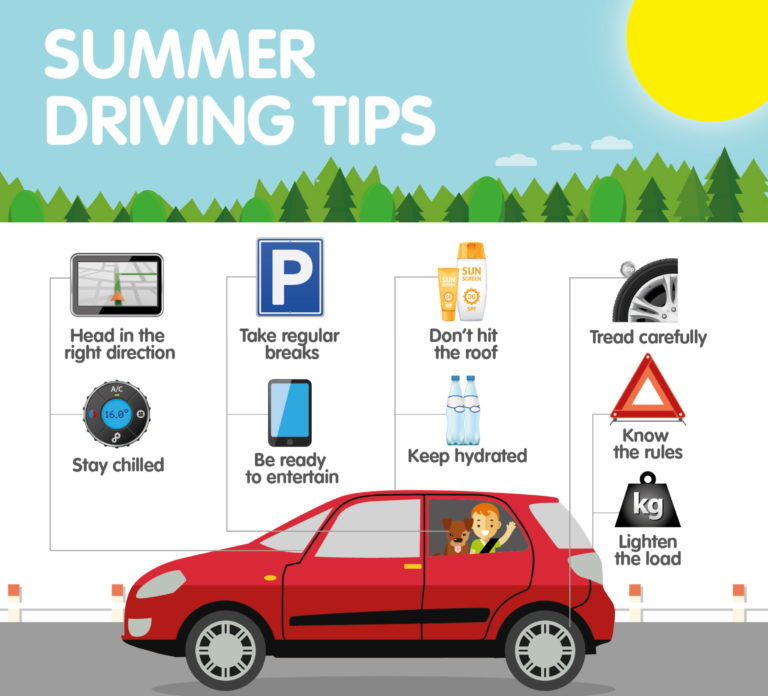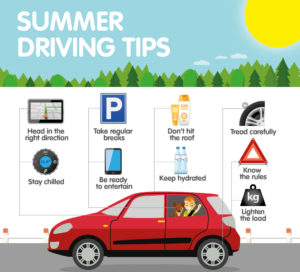 With many of us spending our summer holidays in the UK, or preferring to drive over to the continent rather than fly, The Motor Ombudsman, the automotive dispute resolution provider, is advising motorists to ensure their vehicles are legal and roadworthy.
The Motor Ombudsman has therefore issued the following top tips for vehicle owners to stay safe when travelling on the road this summer, whether for a staycation in the UK or when going abroad.
Know your tyres in-depth
Only a small contact patch separates a car from the road, so good tyre maintenance is critical. The legal minimum tread depth in the UK is 1.6mm across the central three-quarters of the tread, and around the complete circumference of the tyre. Furthermore, all rubber, including the spare, should be inflated to the pressures as recommended by the vehicle manufacturer (a sticker can normally be found on the door frame). Under-inflation, which a tyre pressure monitoring system (TPMS) should indicate, can affect wear, handling and grip, especially throughout unsettled periods.
Keep it fluid
Cars rely on fluids and lubricants to operate efficiently, and all should be topped up to the advised levels. These include fuel, oil and windscreen washer. Wipers should equally be streak-free, so front and rear screens offer the best possible clarity when driving, especially on sunny summer days.
Stay on top of paperwork 
It is not only the physical condition of the car which is important; supporting documentation for the vehicle should also be in good order. A valid MOT certificate, insurance policy, car taxation (if applicable) and servicing schedule are all required to comply with existing motoring laws.
Light at the end of the road
Bulbs in all front headlights, fog lights and rear lamps should be operating at their full potential and cleaned at least once a week to stay safe when travelling in the dark or when visibility is poor.
Good brakes are vital
Brakes are some of the most crucial pieces of technology on a car, and they play an even greater role during periods of inclement weather. To help drivers know when parts need changing, the degree of wear of pads and discs is often assessed during routine servicing and maintenance. However, sensors on some cars will also indicate when these components are in need of replacement.
Stay in charge of the battery
Today's vehicles have more electronic systems on board than ever, all of which depend on the battery. A flat battery is one of the main causes of breakdowns. If the car is difficult to start, and the battery is more than five years old, you should look at getting it replaced. This will help to avoid any unnecessary interruptions to journeys during the holiday period.
Be prepared for the unknown this summer
It's a known fact that there is the possibility that things can go wrong when travelling on holiday. Therefore, it's best to keep an emergency kit and supplies in the car in the event of a major fault or breakdown. This is particularly relevant if travelling abroad, as laws vary by country for what needs to be carried. It is recommended that drivers pack items such as a first aid kit, a torch and batteries, fluorescent jacket, jump leads and a warm blanket.
Know the rules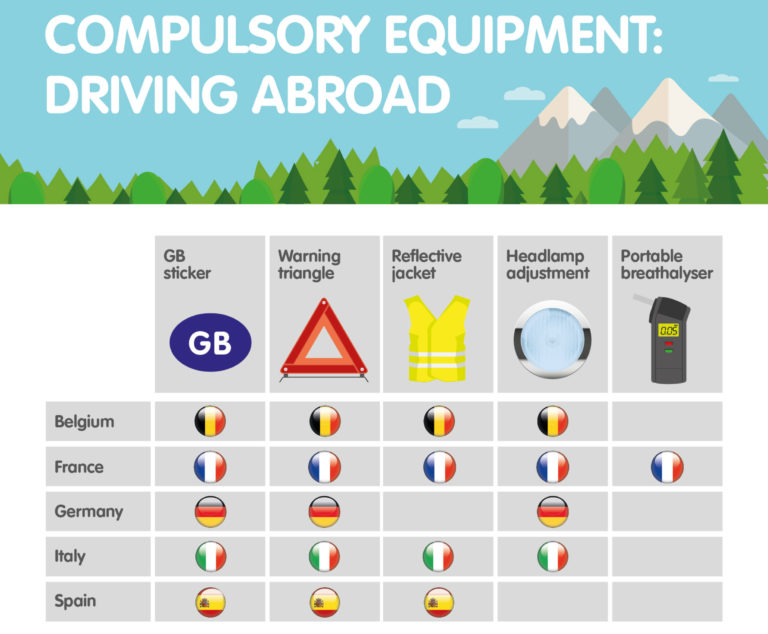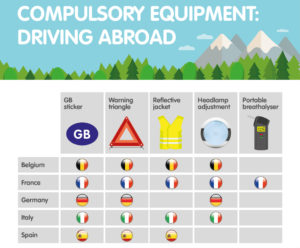 A valid MOT certificate, up to date road tax and a current insurance certificate are a must in the UK. When going abroad, the road laws vary by country, and the essential equipment that needs to be carried also differs. For example, it is compulsory in France to have a portable breathalyser. Nevertheless, for those crossing the channel, a GB sticker on the back of the car is essential, unless the registration plate displays the GB Euro-symbol. However, for all travel across the channel, it is advisable that a warning triangle, high visibility reflective jackets and headlamp beam converters are kept in the boot as a minimum. Take a look at the graphic to find out more.
Keep it in range
If you own an electric car, make sure that you take any charging cables with you and know where the key charging points are along your route, especially if you are planning to head across to the continent.
Know how to find a garage you can rely on
Breaking down or needing a repair on your vehicle during a summer getaway can be a worrying time, especially when you're used to having a local, trusted garage you know you can rely on. The Motor Ombudsman's online Garage Finder will help you to locate your nearest CTSI-Approved Code accredited business. You'll be able to read reviews and find their contact details, so you can get back on the road and free to enjoy the rest of your trip!