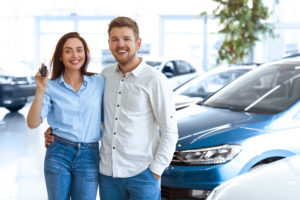 Every year, several million pounds are spent by motorists on buying used cars, and it can prove a minefield for some. Apart from choosing the make and model, and where to get the car from, i.e. at auction, through a franchised dealership, an independent garage, a car supermarket, or via a private seller, there are many factors to take into consideration. To help make the second-hand car buying experience easier, The Motor Ombudsman has the following key advice for consumers.
Your rights can vary
Buying a vehicle face-to-face or online through a retailer offers you the most protection with the least amount of risk as you are fully covered by the Consumer Rights Act 2015. If you choose to purchase from someone you don't know, a friend or family member, the onus is entirely on you to do your homework and check the car thoroughly, because if there is an issue with the car later down the line, there is very little come back on once you have signed the V5C logbook document. The Motor Ombudsman is unable to raise a case if something goes wrong following a private sale as they wouldn't be accredited. Your best point of call in this scenario would be the Citizens Advice Bureau (CAB).
Look for a sign of endorsement
Before visiting any sales location, it's worth making sure that it's signed up to a Trading Standards-approved Code of Practice covering used cars, such as The Motor Ombudsman's Vehicle Sales Code (which excludes any online or physical auctions) – accredited businesses can be found using the online Garage Finder. This means that the retailer has committed to high operating standards, and that they have signed up to a provider of Alternative Dispute Resolution (ADR). This will come into play in the event that you can't resolve a dispute directly them.
Check, check and check again
Doing the right research is essential when opting for a used car, and this has been made easier through the Internet. For example, running an online check (if the seller hasn't done so already) will let you know whether the vehicle has previously been involved in an accident, and if it's clear of any outstanding finance. Furthermore, with the government's Vehicle Enquiry Service, it's easy to find out when the MOT is next due.
Test driving the car is the best way to make sure that it's right for you, and that it performs how it should. Especially if it's a private sale, take someone along with you, preferably a qualified mechanic, who will be able to identify any defects that have not already been brought to your attention.
If you do uncover a problem within the first 30 days of owning the car (which wasn't known at the point of sale), and you have bought it from a garage, then you have the right to reject it and return it for a full refund.
Manufacturer warranties can differ
A vehicle's warranty can vary in length depending on the brand – some go up to as much as seven years, and therefore when buying the car, check to see how many years are left/covered, as you can take advantage of whatever is remaining.
When it comes to maintenance, there is the common misconception that the warranty policy can be invalidated if a car is serviced outside of the dealer network. If a garage follows the manufacturer's prescribed servicing schedule and uses genuine parts during the work, this will not be the case thanks to existing European Block Exemption laws.
For added peace of mind, look to see whether the warranty provider is accredited to a reputable Code of Practice such as that offered by The Motor Ombudsman, and if the retailer is signed up to a recognised Service and Repair Code when it comes to doing any maintenance work. If you have purchased the car from a franchised dealership with a fixed price service plan, then you must take it back to one of the brand's participating retailers for servicing throughout the duration of the agreement.
Keep to what you can afford
Choosing a car is often an exciting time, and it's therefore easy to get carried away. Remember, it's not only about being able to buy the car, but equally significant are the longer-term costs for running it. Finance agreements are now the most popular way of buying a vehicle, and you should consider affordability both in the short and long term, as circumstances may change, and payments could become harder to make. Something else to bear in mind is that you can pursue a dispute against a finance provider with the Financial Ombudsman Service at the same time as submitting a complaint about the garage via The Motor Ombudsman.
How you pay (either outright or by instalments) will affect your rights if there is a dispute. For example, if you settle all or part of the cost of your car by credit card, the card company and the trader may be jointly responsible for compensating you under the Consumer Credit Act 1974. For debit cards, you may be able to get a refund through a voluntary scheme known as 'chargeback'.
The sticker price is rarely what you pay
When you are ready to go ahead with the purchase, the price on the car windscreen is often indicative. Sales staff, as with a private seller, frequently have some room for negotiation, so it's worth having a conversation to discuss a possible price reduction. Before agreeing the final number, take into account any other costs such as delivery, and once you have reached an agreement, inclusive of any extras and taxes, read the small print before signing any documentation, and never feel pressured into doing so.
It's always important to do your homework before you go to see the car, so that you have a good idea of what the car is worth, based on its age, condition and mileage, which will help avoid paying over the odds.
It can be taxing
Even if the car is taxed when you go to see it, this can't be transferred when you buy it, and therefore, it's your responsibility to pay the appropriate fee, so that you are legally compliant from the day that you take ownership. The latest Vehicle Excise Duty (VED) calculations, which are categorised by the level of CO2 that a vehicle emits, can be viewed here.
Get covered for breakdowns and insurance
To stay on the right side of the law, you need to have instant insurance cover from the moment that you leave the forecourt or that you're handed the keys from a private seller. You should also ideally have a breakdown policy in place at the same time. With so much information available online, and a variety of comparison tools, it's worth shopping around so that you get the best deal in terms of your needs and budget. It can sometimes by cheaper to buy them separately.
The Motor Ombudsman