Information for businesses
During these challenging times, The Motor Ombudsman is continuing to support businesses and is operating a normal service with no changes to our opening times.
Information and guidance relating to the Coronavirus outbreak is rapidly changing and being updated, and we would therefore recommend you visit the government's dedicated business support website:
https://www.gov.uk/coronavirus/business-support
The Motor Ombudsman has implemented a remote working policy since March, and will continue to operate as usual. However, we fully understand the difficulties you may be facing during these challenging times with the need for some business closures and staff being furloughed. If you require any additional support or time responding to a case with us, please just let us know by responding to the latest e-mail from our case investigator, adjudicator or ombudsman. Alternatively, please get in touch with our Business Services team and they will be happy to accommodate your needs.
---
NEW:

Scotland update – 14 January
Scotland to allow click and collect operations to continue from outdoor vehicle lots
Following the suspension of click and collect services for non-essential businesses in Scotland coming into force from Saturday 16th January, it has been confirmed that car dealers can remain open to operate click and collect services for a purchased vehicle or for delivery or collection of a vehicle for repair, service or MOT. You can read the official statement published by the Scottish Motor Trade Association Ltd (SMTA) here.
NEW: 

COVID-19 National lockdown announcement – 4th January
On Monday, 4th January, The Prime Minister confirmed a 'National Lockdown' for England, with a clear stay-at-home message except for exceptional circumstances as of midnight on 4th Jan.
Here is an overview of the key elements of the new lockdown restrictions:
Vehicle showrooms to be closed nationwide, with click & collect permitted
Service and Repair Garages and MOT stations are considered essential services, and can remain open
Jobs, such as manufacturing, which cannot be undertaken at home are permitted to continue
Leaving or being outside of home is not allowed, except for specific reasons, such as for grocery shopping, exercise or travelling to work, if working from home is not possible
No anticipated easing of restrictions until 'after February half-term', with speculation of March easing 'more likely'
The government guidance and further information can be found here: https://www.gov.uk/coronavirus
The PM's speech can be found here
Please note these restrictions will enter into force before MPs vote on Wednesday.
Restrictions across the UK do vary, and you can read the latest updates for Scotland, Northern Ireland and Wales by clicking the links below.
Financial support update – 5th December
Government issues £4.6 billion in new lockdown grants
In response to the latest lockdown measures in England, Government is issuing one-off top up grants worth up to £9,000 per property for retail, hospitality and leisure businesses which are required to close. The grant is provided on a per-property basis and is expected to benefit over 600,000 business properties.
https://www.gov.uk/government/news/46-billion-in-new-lockdown-grants-to-support-businesses-and-protect-jobs
A further £594 million is also being made available for Local Authorities and the Devolved Administrations to support other businesses not eligible for the grants, that might be affected by the restrictions. Businesses should apply to their Local Authorities.
Financial support update – 17th December
The Coronavirus Job Retention Scheme (CJRS or furlough scheme) has been extended until the end of April 2021. The Job Support Scheme has been paused and will not start in November, as was planned.
The Chancellor has also confirmed he would be extending the government-guaranteed Covid-19 business loan schemes until the end of March 2021. These had been due to close at the end of January
For the CJRS, the government will continue to pay 80% of the salary of employees for hours not worked until the end of April, up to a maximum of £2,500 a month. Employers will only be required to pay wages, National Insurance Contributions (NICS) and pensions for hours worked; and NICS and pensions for hours not worked. The eligibility criteria for the UK-wide scheme will remain unchanged and these changes will continue to apply to all Devolved Administrations.
The loans extension covers the Bounce Back Loan Scheme, Coronavirus Business Interruption Loan Scheme, and the Coronavirus Large Business Interruption Loan Scheme.
Read the full release here: https://www.gov.uk/government/news/chancellor-extends-furlough-and-loan-schemes
---
Automotive operating guidance and best-practice
Following the government guidance on operating safely in the workplace during the Coronavirus (COVID-19), the automotive industry has published guidance and best practice relating specifically to the motor retail and aftermarket sectors.
Resources for operating safely
We've pulled together a range of key resources which you'll be able to use and share. This includes social media graphics to show you're open and ready for customers, as well as safety posters.
You can access the resources here.
Safety products
We're offering a range of products to help keep your customers and staff safe and reassured. You can find information on how to order here.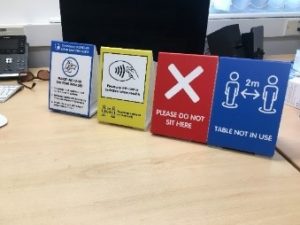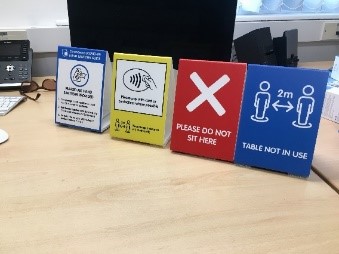 ---
Automotive Aftermarket


COVID-19 : Industry guidance and best practice

The guidance has been developed for garages, warehouses, mobile operations and parts distributors. It covers every aspect of operations, from clear communications with customers and colleagues to social distancing, sanitisation and hygiene, and collection/delivery of vehicles from vulnerable owners. It is designed to complement government advice and help the aftermarket sector demonstrate safe practices for employees and customers across all points of interaction.

NEW: In line with new Government legislation, from 24 September 2020 it is compulsory for retail
(and leisure and hospitality) staff to wear a face covering in areas that are open to the public and
where they come or are likely to come within close contact of a member of the public.

Read the publication here  (Updated 24th September 2020)
Automotive retail


COVID-19: Industry guidance and best practice

Developed together with dealers and manufacturers, it is designed to complement government guidance for the overall UK retail sector, to help dealers of all shapes and sizes implement legal requirements as part of individual risk assessments in line with their unique business and customer needs.

The best-practice guidance covers the entire customer experience, from booking appointments to showroom interactions, test drives, click & collect, part exchanges and aftersales, and includes advice on staff training, signage, sanitation and protective personal equipment (PPE).

In line with Government legislation, from 24 September 2020 it is compulsory for retail
(and leisure and hospitality) staff to wear a face covering in areas that are open to the public and
where they come or are likely to come within close contact of a member of the public.

Read the publication here (Updated 24th September 2020)
---
Financial support for businesses
A range of financial measures to support businesses have been introduced, ranging from the Job Retention Scheme  (furloughing staff) to access to grants and loans. The latest government updates for businesses can be found by clicking on the links below.
Financial Support for Businesses
This page includes information on a range of support available to businesses including:
Government has also produced guidance to assist employers, businesses and their staff in staying open safely during the coronavirus (COVID-19) outbreak:
---
MOT Extension
On 29th June 2020, the Department for Transport (DfT) announced that mandatory MOT testing is to be reintroduced in the UK for cars, motorcycles and vans from 01st August 2020 in response to the lifting of COVID-19 restrictions that came into force in March 2020.
The latest information about the MOT extension can be found here.
---
Other useful websites
Business support and advice
SMMT  (Society of Motor Manufacturers and Traders) – publish regular updates on the latest developments relating to the automotive sector and host a weekly webinar.
Federation of Small Businesses – have a dedicated Coronavirus hub and regular webinars dedicated to offering information for small businesses.
Support services, mental health and wellbeing
Coronavirus updates and webinars from The Motor Ombudsman
We have been sending out regular updates based on the latest government guidance. If you require any information about support available, please contact our Business Services team on 0345 241 3008,via email Business@tmo-uk.org, or our webform.
---

Coronavirus support FAQs
1. Is my garage allowed to remain open?
Garages and MOT service centres have been classed as an essential service and are allowed to stay open. Car showrooms were able to re-open from 1st June 2020.
To reduce social contact and avoid the spread of the Coronavirus, the government has published a list of businesses and venues that should close and any exceptions.
The list is subject to updates but, as of 30 March 2020, the following 'retail' sites are permitted to remain open:
• Garages and MOT services (previously 'repair shops')
NEW:Wales is to enter a national 'fire-break' lockdown, starting at 6pm on Friday 23 October and ending on Monday 9 November. Car Dealerships must close during this time.
2. Where can I find information about furloughing staff?
The Coronavirus Job Retention Scheme (CJRS) is a temporary scheme open to all UK employers starting from 1 March 2020. It is designed to support employers whose operations have been severely affected by the Coronavirus (COVID-19).
You can find the latest guidance on the government website here.
If you cannot maintain your current workforce because your operations have been severely affected by the Coronavirus (COVID-19), you can furlough employees and apply for a grant that covers 80% of their usual monthly wage costs, up to £2,500 a month, plus the associated Employer National Insurance contributions and pension contributions (up to the level of the minimum automatic enrolment employer pension contribution) on that subsidised furlough pay.
This is a temporary scheme in place starting from 1 March 2020, and it has recently been extending until October 2020. It is designed to help employers whose operations have been severely affected by the Coronavirus (COVID-19) to retain their employees and protect the UK economy. However, all employers are eligible to claim under the scheme and the government recognises different businesses will face different impacts from the Coronavirus.
3. Will I be able to get the parts I need to continue to service and repair cars?
Under government definitions, garages and supply chain distribution are all exempt from the closure order, as they are considered critical services. Therefore, parts suppliers will continue to provide the necessary parts to their garage networks.
 4. How can I ensure our business employs social distancing rules in the workplace?
The government has produced guidance which will assist employers, businesses and their staff in staying open safely during coronavirus (COVID-19).  You can read the full guidance here.
Social distancing involves reducing day-to-day contact with other people as much as possible, in order to reduce the spread of the Coronavirus (COVID-19).
Limiting the spread of coronavirus at your centre
You should:
follow social distancing advice and keep at least 2 metres between customers and members of staff at all times
remind employees and customers to wash their hands for 20 seconds more frequently than normal
Where facilities to wash hands are not available, hand sanitiser should be used
frequently clean and disinfect objects and surfaces that are touched regularly, using your standard cleaning products
use seat covers and new disposable gloves for every test
You can download posters, leaflets and other materials from the Public Health England website, to display on your premises.
Viewing areas
You can close viewing areas if you want to.
MOT certificates
Do not print MOT certificates unless the customer needs it for a specific reason.
Tell customers they can download and print the certificate when they get home and check their MOT history.
Taking payments
Avoid handling cash and use mobile or contactless card payments where possible. The contactless payment limit in UK is due to increase from £30 to £45 from 1 April 2020.
As well as the more general advice listed on the previous link, government has also specifically drawn up guidance for the retail sector which can be found here.
5. My premises is closed, but can I continue to sell cars through distance sales?
If you have needed to close your physical premises, you may be in a position to continue working remotely and sell vehicles through communicating online or on the phone.
The Department for Business, Energy & Industrial Strategy (BEIS) has advised that whilst car  showrooms must remain closed, dealers can continue to sell cars remotely and may deliver them as long as they follow the guidance from Public Health England to protect both employees and their customers.
It is important to remember that, if the customer has not visited the premises during the period of the sale and the product is delivered to the customer's home without any face-to-face contact with the retailer, this would be classed as a 'distance sale'.
In fact, there are key differences in the legislation relating to this type of sale. The UK legislation that covers distance selling, which came into force in June 2014, is called the Consumer Contracts (Information, Cancellation and Additional Charges) Regulations 2013, sometimes referred to as the 'Distance Selling Regulations'.
The biggest difference with a distance sale, versus one which is physical, is that the customer has the right to cancel an order and get a refund on their deposit within 14 days of placing it, and they can also return the car within the first 14 days of ownership and receive a full refund. In addition, they do not have to provide a reason for doing so.
The Motor Ombudsman has developed an online training course about distance sales within the automotive sector. You can find more details here.
6. When should I re-open my business?
Garage and MOT stations
Government has advised that garages and MOT stations are considered an essential service and can remain open.
In order to protect employees, staff sickness, or due to a reduction in custom, you may have needed to temporarily close your business. To assist businesses during periods of closure, the government has introduced the Coronavirus Job Retention Scheme to support businesses by paying 80% of an employee's wages plus any employer National Insurance and pension contributions. This programme is due to last for four months from 1st March 2020.
We would recommend that you regularly check the government website for the latest information on when other businesses are able to open and when the Job Retention Scheme will close.
Car showrooms
Car showrooms were originally  included in the government list of businesses that must close, but on the 25th May, The Prime Minister has announced that Car Showrooms (in England only) will be able to be open from Monday 1 June, with other 'non-essential' retail to open from 15 June.
Businesses will only be able to open from these dates once they have completed a risk assessment, in consultation with trade union representatives or workers, and are confident they are managing the risks. They must have taken the necessary steps to become COVID-19 secure in line with the current Health and Safety legislation.
The Government has updated its guidance on working safely in shops and branches: https://www.gov.uk/guidance/working-safely-during-coronavirus-covid-19/shops-and-branches
SMMT's safe working guidance for automotive retail is available to view and download here: https://www.smmt.co.uk/wp-content/uploads/sites/2/NFDA-SMMT-Industry-Guidance-COVID-19-Protective-Measures-for-Auto-Retail.pdf
We will update our accredited businesses and this webpage as soon as we have any updates relating to the re-opening of car showrooms in Northern Ireland, Scotland and Wales.
7. What non-practical training courses can my staff do whilst business is slower due to the Coronavirus?
During this quieter period, it might be an ideal time for your staff to complete online training so they can brush up on their knowledge and skills as well as learning something new.
The Motor Ombudsman has a range of training courses specifically created for the automotive industry covering Alternative Dispute Resolution, data protection (GDPR) and distance sales. On completion you will receive CPD points, and a certificate is awarded by The Motor Ombudsman on the successful completion of the modules.
You can read more about our range of training courses here.
8. What can I do to help support NHS key workers and the local community?
Many garages already do a lot to support their local community and have stepped this up in light of the Coronavirus outbreak. If this is something that your business would like to consider, you could introduce initiatives such as discounted rates for NHS key workers, or offer a vehicle pick-up and delivery service during this time if it is safe to do so and all the necessary precautions are being taken. The last thing a key worker wants to worry about during this period is issues with their car, which prevents them getting to and from work!
Some businesses have been able to support their local communities with offering a delivery service for essential items, such as food and personal protective equipment (PPE). Donations of PPE such as any surplus seat covers you may have.9