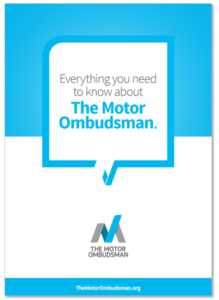 The Motor Ombudsman is a certified Alternative Dispute Resolution  (ADR) provider who can assist with resolving disputes that arise between consumers and Code-accredited businesses.
In order for us to assist with resolving your dispute, there are some steps you need to take in advance of us looking into your case:
Step 1: Firstly, check if the business is signed up to one of our four Codes of Practice. Find out how…
Step 2: Then, get in touch with the business to explain why you are not satisfied and give them a chance to resolve the issue. Read more…
Step 3: Visit our Knowledge Base to see if we can answer your query, and to check the case is within our remit.
Step 4: If your issue remains unresolved, please complete our case creation form to give us the more information about your dispute. You can access this form after searching our Knowledge Base.
You can also find useful information on how our service and how we help to resolve disputes by downloading our customer guide.
Download our guide for consumers
---
Step 1: How to check if the business is accredited to The Motor Ombudsman
You can check whether a business is signed up to our Service and Repair and/or Vehicle Sales Codes of Practice by typing in the business name or postcode into our online Garage Finder.
If your dispute relates to a new car under the manufacturer's warranty or an extended warranty product, a full listing of accredited businesses can be found here.
Accredited car manufacturers 

Accredited vehicle warranty product providers
---
Step 2: Have you given the business a chance to resolve the issue?
First of all, you need to give the business the chance to sort things out before bringing your complaint to us.
Get in touch with them to explain what's happened and let them know how you would like things to be put right.
The business then has eight weeks to give their final answer to your complaint. They can respond at any point within those eight weeks.
If at that point you're still not happy, or the business has not responded to you, then you can bring your complaint to us.

We can only look into a case before eight weeks if the business has issued a final response and you are unhappy with it.
---
Step 3: Visit our Knowledge Base to check if the dispute is something we are able to take on
If you're not happy with the response from the business, or don't receive one at all, then please make sure that you have referred to our online Knowledge Base for the next steps.
The Knowledge Base contains the answers to many frequently asked questions. Before contacting us, please use this resource to find useful information and to check if your complaint falls within our remit.
---
Step 4: How to submit a dispute to us
After you've searched our Knowledge Base (if your dispute is within our remit and you still need us to assist you with resolving your complaint with one of our accredited businesses),  then please provide us with all the details of your case by completing our enquiry form.
The easiest way to do this is via our online webform.
Please note that we have recently updated our form to make it easier to complete.
If you have any issues or require any assistance with completing the form, please call our Customer Service team on: 0345 241 3008. You can find more information about our opening hours here.
What information do we need?
When you get in touch, you will need the following to hand:
The details of the business
The details of the dispute
What best describes the dispute?
What happened?
What would resolve the dispute?
The details of the complainant
The Vehicle Details
Consent to act as third party (if required)
Registration number
Mileage
Vehicle Identification Number (VIN)
Make and model
The declaration
Acceptance to terms of use
What happens when we receive your case?
We'll review the information you have provided to check that it is something we can help with.
If we can take on your complaint we'll be in touch to ask you to supply the evidence to support your case.
This could consist of invoices, correspondence such as emails and letters, the business' final response and any technical or independent reports you may have.
---
Further  information on how we can help resolve your dispute
You can find out more information such as our remit, how we remain impartial and the dispute resolution process map here.