Motor Ombudsman poll reveals top reasons for in-car arguments ahead of next week's launch of the "Stay cool this summer" social media campaign
Survey found that unwelcomed opinions shared by back-seat drivers, and children fighting, crying and shouting, spark the most disputes when on the road
Nearly half of drivers who have argued with passengers think that it is important to resolve a disagreement as it reduces stress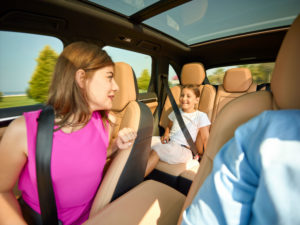 With the summer getaway just around the corner, a time when families traditionally spend many hours on the road together, a YouGov survey commissioned by The Motor Ombudsman, the automotive dispute resolution provider, has found that nearly two-fifths (38%) of drivers deem the unwanted comments of back-seat drivers to be the main cause of in-car arguments.
The poll of over 1,500 British motorists was carried out ahead of the launch of The Motor Ombudsman's "Stay cool this summer" social media campaign on 21 June. The month-long initiative will offer consumers tips for how they can resolve disputes quickly and calmly with their garage in order to achieve a fair outcome and a positive ongoing relationship. In addition, individuals will have the chance to win weekly prizes on Twitter and Facebook to help them stay refreshed as the mercury rises.
The latest study also revealed children shouting, crying and fighting as the second biggest cause of arguments when on a journey (17%). Similarly, one in seven respondents stated that passengers adjusting buttons and dials (14%), changing the radio station or choice of music (14%), and occupants leaving rubbish in the car (14%), are some of the most likely irritations to provoke a dispute with their fellow passengers. To diffuse the situation, over half (53%) of people who have had an argument with passengers while driving, said that they adopt a direct and firm approach for the behaviour to be nipped in the bud there and then. Conversely, almost a quarter (24%) of those questioned prefer a more "laissez-faire" approach by seeing if the situation improves prior to taking any action.
The majority (48%) of drivers who have argued, think resolving an in-car clash helps to reduce stress. A third of people equally cited that the most important reasons for bringing a dispute to a close were to avoid a repeat of the same arguments (33%), to make future journeys more relaxing by agreeing a compromise (33%), and to have improved relations with others (32%).
In order to let off steam with someone that is impartial and independent of the disagreement, once out of the car, almost one in four (24%) share their side of the argument with their other half, whilst 10% prefer to impart their views of the dispute with friends.
Bill Fennell, Chief Ombudsman and Managing Director of The Motor Ombudsman, said: "Although holidays are an exciting time, being confined to a small space on a long journey can cause tension in the car. As with any differences of opinion, whether with family or a business, it is important for all parties involved to take the time to try to conclude any issues in a cool and constructive way to help prevent the problems from re-occurring. However, just as importantly, the campaign is highlighting that there is help out there for motorists should there be a problem during the purchase, servicing or repair of a car that they haven't been able to sort out directly with their garage."
To enter the social media competition to win weekly prizes between 21 June to 19 July 2017, visit The Motor Ombudsman's Facebook (www.facebook.com/TheMotorOmbudsman) and Twitter (@Motor_Ombudsman) pages.
ENDS
Notes to editors
About The Motor Ombudsman
The Motor Ombudsman is the automotive dispute resolution body. Fully-impartial, it is the first ombudsman to be focused solely on the automotive sector, and self-regulates the UK's motor industry through its comprehensive Chartered Trading Standards Institute (CTSI)-approved Codes of Practice. Thousands of businesses, including vehicle manufacturers, warranty product providers, franchised dealers and independent garages, are accredited to one or more of the Codes, which drive even higher standards of work and service, and give consumers added protection, peace of mind and trust during the vehicle purchase and ownership experience.
For more information on The Motor Ombudsman, visit www.TheMotorOmbudsman.org
About the YouGov survey data
All figures, unless otherwise stated, are from YouGov Plc. Total sample size was 2,027 adults, of which 1,564 hold a UK driver's licence. Fieldwork was undertaken between 30th – 31st May 2017. The survey was carried out online. The figures have been weighted and are representative of all GB adults (aged 18+).