View of the service and repair sector in 2018 research seen as even more positive in the eyes of motorists compared to the previous 12 months
18 to 35 age group, and drivers living in the South, are the most favourable about this area of the automotive industry compared to the rest of their peers in the UK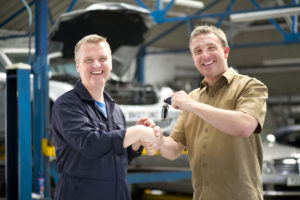 An annual survey of 1,000 car owners conducted by The Motor Ombudsman, the automotive dispute resolution provider, has revealed that consumers have an increasingly favourable perception of the vehicle service and repair sector when compared to the same period last year*. The study showed that 51% of respondents enjoyed a positive experience, versus 44% in 2017, whilst 39% of individuals expressed a neutral view in 2018 compared to 45% 12 months earlier.
The results of the yearly research, which is carried out by the body to gauge the opinion of motorists on different aspects of the automotive industry, and their awareness of The Motor Ombudsman and its role, saw 57% of male drivers being complementary about the sector in contrast to 46% of their female counterparts. In addition, those aged between 18 to 35, and individuals living in the South, hold this area of the motor industry in the highest regard (65% and 51% of participants respectively).
Drivers were also asked if they had a complaint with their garage (including those related to vehicle maintenance), and if so, was it resolved. Encouragingly, out of the 49% of respondents who had an issue, 91% stated they had successfully concluded it directly with a garage or vehicle manufacturer (up from 87% in 2017 and 83% in 2016). Since January this year, the major source of consumer contacts to The Motor Ombudsman's impartial alternative dispute resolution (ADR) service, concerning its Service and Repair Code of Practice, has been in regard to the level of workmanship, staff attitude, the booking in process, and potentially misleading advertising.
Reflecting on the findings, Bill Fennell, Chief Ombudsman and Managing Director of The Motor Ombudsman, said: "The research which we commission each year provides an important barometer of sentiment amongst motorists in a sector that lies at the heart of vehicle ownership. The results of our latest study paint an encouraging picture of the service and repair arena. Plus, with a greater volume of businesses becoming accredited to our Code of Practice, which commits garages to go above and beyond their legal requirements, the results are clearly paying off. There is of course still work to be done to improve the perception even further."
* E-mail survey conducted via an independent online panel of consumers during the last week of June/first week of July 2018.
ENDS