Vauxhall owner wins £500 worth of Lifestyle Vouchers in Q2 prize draw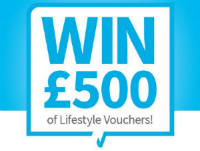 Neil from Inverness has been named as the lucky winner of £500 in Lifestyle Vouchers after leaving a review and rating of Anderson Clark Motor Repairs on The Motor Ombudsman's online Garage Finder during the last three months.
The Vauxhall owner used the award-winning garage on Carsegate Road in the Scottish city of Inverness to have his car's annual service and a repair carried out, and left the following glowing comments after his visit:
"Once again, excellent friendly service from all at Anderson Clark"
Neil also gave the business top marks, and scored Anderson Clark ten out of ten stars on all aspects of their service, spanning the booking-in of the vehicle to how likely he is to recommend the business to others.
To be in with a chance of winning £500 in Lifestyle Vouchers in the next prize draw, which takes place at the beginning of October 2021, simply visit our Garage Finder and search for the profile of the business that you have been to, to either buy, service a repair or car and click on the 'rate' button You can then leave a rating and a short review based on your experience.