We are delighted to announce that Karen McGinn from Devon is the latest winner of £500 in our first quarter prize draw as part of our Service and Repair Code survey, after recently buying tyres for her car at Protyre Exeter. After leaving a review on The Motor Ombudsman website, she was selected from the feedback which was submitted to us during the first three months of the year.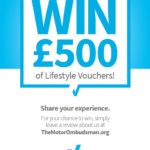 To enter the competition, and be in with the chance of winning £500 in Lifestyle Vouchers, simply search for the business on our Garage Finder. You will then be able to click on the 'Rate this garage' button and complete an online review of the work and service that you received.
The next quarterly prize draw will take place in July 2017.
In the meantime, congratulations Karen!