TMO Talks To

Kerry Dukes, Partner at Dukes AutoTech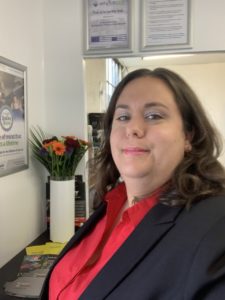 Dukes AutoTech is an independent garage and a Servicesure Autocentre based in St Austell, Cornwall, and is run by the husband and wife team, Gavin and Kerry Dukes. Gavin and Dukes AutoTech's team of qualified technicians have a combined total of over 75 years' experience in the motor trade. Kerry has a degree in engineering and a background in business management and customer service, so while she manages the front of house and marketing for the garage, she is not afraid to get her hands dirty!
We caught up with Kerry after winning The Motor Ombudsman's 2020 national Garage Star Award and the trophy for the western region in the inaugural year of the contest.
TMO: Congratulations on winning the top prize and the western region in our first Garage Star Awards. This must have been quite a proud moment for you and the team? 
KD: We were all totally shocked and amazed. We work so hard, but there were so many wonderful garages who were nominated, that we didn't think for a second that we would win anything. Just the nomination alone was an honour, to be shortlisted a privilege, and to win both the West and national prize was totally overwhelming!
TMO: Did you get an opportunity to celebrate this achievement despite the lockdown? 
KD: Unfortunately, lockdown prevented us from taking the team out, but I did treat them all to fish and chips for lunch. We intend to go out and celebrate together once the restrictions have been lifted.
TMO: Your desire to go above and beyond to help your customers really shone through in your nomination. Has this been a key part of your philosophy since the business was established?
KD: It most certainly has. Our business ethos has always been to provide the best levels of customer care, whilst maintaining high levels of workmanship. Our compassionate approach influences everything we do – from day-to-day customer interaction, to selecting a new member of our team. Often a visit to the garage is filled with anxiety. We therefore work so hard to support our customers in a friendly and relaxed way. One of my favorite reviews is titled "I arrived a customer and left a friend". This beautifully sums up how we treat each and every individual who visits us.
TMO: What else do you think sets Dukes AutoTech apart from other independent garages in St Austell, and Cornwall as a whole?
KD: I couldn't answer this question without mentioning that we are proud members of the Servicesure Autocentres network. This membership gives us many tools in our arsenal that we can use to assist our customers further and enhance their experience with us. For example, the free brakes for life scheme, national warranty and 0% finance. Aside from Servicesure, we are a dynamic team with a wide range of skills, and the work we take on is varied. From trailers and Transits, to TVRs, we can handle it.
TMO: What impact has the Coronavirus had on your business, and have you been able to make any positive changes as a result of the pandemic that may not have otherwise been implemented?
KD: Yes, we have. We closed for 12 weeks during the first lockdown as I had to shield. We took the opportunity to build a new reception area to help us keep ourselves and our customers safe upon reopening. As well as revamping my office, painting our workshop floor, and investing in new equipment, we implemented a new garage management system to ensure that we were as efficient as we could be upon reopening. So far, these changes have been very positively received.
TMO: From what you have seen, have you noticed a change in the commitment of customers to car maintenance, or have they kept to their existing MOT and servicing schedules despite the recent extension?
KD: The honest truth is that this has been very mixed. Some customers were conscientious and kept to their usual maintenance schedule, despite the extension. We found that we had to remind customers well ahead of time to book their MOTs so that we could meet the demands the extension put on the industry as a whole. Fortunately, we were able to meet demands and we seem to be getting back to a sense of normality now.
TMO: How do you see things panning out for your business next year, and what do you foresee as the main challenges? 
KD: The future is looking very positive. We have a fantastic team, great facilities, and a wonderful customer base. We will continue to provide the best level of service that we can whilst maintaining high levels of workmanship. Who knows? Maybe next year we will win the regional and national award again? I think our challenges will be staying on top of the changes to the automotive sector in terms of the introduction of hybrid and electric vehicles. Also, parts availability once we finish the Brexit transition period is still an unknown factor.
TMO: As the environmental agenda becomes more prominent in the UK, electric and hybrid vehicle sales are rising. Has this meant changes to your business in terms of equipment and training? 
KD: Funnily enough, on the day that the Garage Star Award winners were announced, my husband Gavin was on an IMI Electric and Hybrid Vehicle training course. We are phasing in this training for all our staff, including myself, so that we are prepared for the future. We will be installing a dedicated electric and hybrid vehicle bay in the new year.
TMO: Are you looking to get an electric vehicle charging point installed on site?
KD: I certainly am, in addition to a dedicated electric and hybrid vehicle bay. The next 10 years are going to be full of changes for the industry, and we will do all that we can to keep abreast of the changing climate.
TMO: What were the main reasons for becoming accredited to The Motor Ombudsman's Motor Industry Code of Practice for Service and Repair?
KD: The Motor Industry Code of Practice for Service and Repair was something that we already strove to abide by before becoming accredited, so seeking accreditation was an easy decision to make. Having an arbitration service also offers additional reassurance to our customers, and a source of advice and support for ourselves.
TMO: Thank you for your time Kerry, and congratulations once again for winning both awards. 
Interview conducted in December 2020.