Here you will find further useful information about The Motor Ombudsman's dispute resolution process.
How will you consider my complaint?
Once we've got your details, we will assess your complaint to see if we can take on your case. We'll be having to look to see if the business is accredited to one of our Codes, if your dispute relates to a potential breach of the Codes and whether or not it complies with the terms and conditions of our service.
If we can take on your complaint then we will:
review your information – and get a response from the other party;
find out the facts and weigh everything up; and
tell you and the business what we think
If we think there's just been a misunderstanding, we'll explain why. There may also be times where the offer already made is considered reasonable in the circumstances, or there just isn't enough information for us to be able to make a fair decision.
If we decide you've been treated unfairly, we'll tell the business to put things right.
You don't have to agree with what we say and, if you disagree with our initial outcome, you are able to ask the ombudsman to make a final decision. At any point, you can let us know that you no longer want our help.
If we are unable to assist we will tell you within three weeks and, where appropriate, we will signpost you to any other organisation that may be able to help.
---
What is our remit?
We can only consider a complaint against a business that is accredited to one or more of our Codes of Practice and have failed to uphold their commitments.
We currently only cover businesses in the UK – however, you do not need to be resident in the UK to use our service.
We will be unable to consider a complaint if:
it concerns physical injury, illness, stress/nervous shock or their consequences, criminal activity or claims of negligence
the award would exceed £10,000 and/or, where appropriate, the value of the vehicle
a legally-binding judgement has already been made, although we may record details for monitoring purposes
We may be unable to consider a complaint if:
it has been more than six years since the event occurred or it has been more than 12 months since you either complained to the business or received their final response
it has already been investigated by another ombudsman scheme or provider of alternative dispute resolution
you have accepted an offer in full and final settlement
there are no demonstrable financial losses
the vehicle was bought in or is registered in the name of a business, or is primarily used for business purposes
we believe the complaint raises an important or novel point of law and therefore the complaint would be better considered by a court, taking into account: whether the point of law is key to the outcome of the case; the significance of the complaint for consumers and the industry; the amount at stake and possible remedies
How long will it take?
How long it takes will depend on what the problem is.
It could take longer if things are more complicated, or if you or the accredited business wants an ombudsman to make a final decision. If there is something which means the situation is more urgent, then please let us know and we will take those circumstances into consideration.
You retain the right to withdraw from our proceedings at any stage – however, if you do accept a final decision, it will become legally binding on both parties and you may lose your right to take the complaint elsewhere.
What powers does the ombudsman have?
We are not here to take sides, our role is to investigate the complaint by taking account of any information, facts and evidence available and resolve the matter fairly if there is evidence to show that the business has done something wrong. We are not here to punish companies but aim to put you in the position you would have been in had the problem not occurred.
We can recommend:
an apology;
an explanation of what went wrong;
a practical action to correct the problem;
and/or a financial award (subject to our limits).
We may also give feedback or recommendations to the accredited business so that it can avoid similar problems happening again.
If you reject our decision you lose the right to the resolution we have offered, but you are able to take your complaint elsewhere, such as the courts.
Penalty points
The Motor Ombudsman can issue penalty points to businesses that fail to comply with The Code of Practice or do not engage in the dispute resolution process.
Failure to comply with a request for adjudication or the terms of a final decision means that a business' accreditation may be placed in a state of suspension in line with the terms and conditions and they may then be suspended from the Code.
How is The Motor Ombudsman impartial?
The Motor Ombudsman is fully impartial and listens to both sides to deliver consistently fair outcomes.
To ensure total impartiality, and that all enquiries, requests for information and cases have been handled correctly, The Motor Ombudsman's four Codes of Practice are overseen by the Chartered Trading Standards Institute's Consumer Codes Approval Scheme and The Motor Ombudsman is monitored by the Independent Compliance Assessment Panel (ICAP), the Chartered Trading Standards Institute as our approver for providing ADR and a board of directors, where the majority are from a non-automotive background.
The dispute resolution process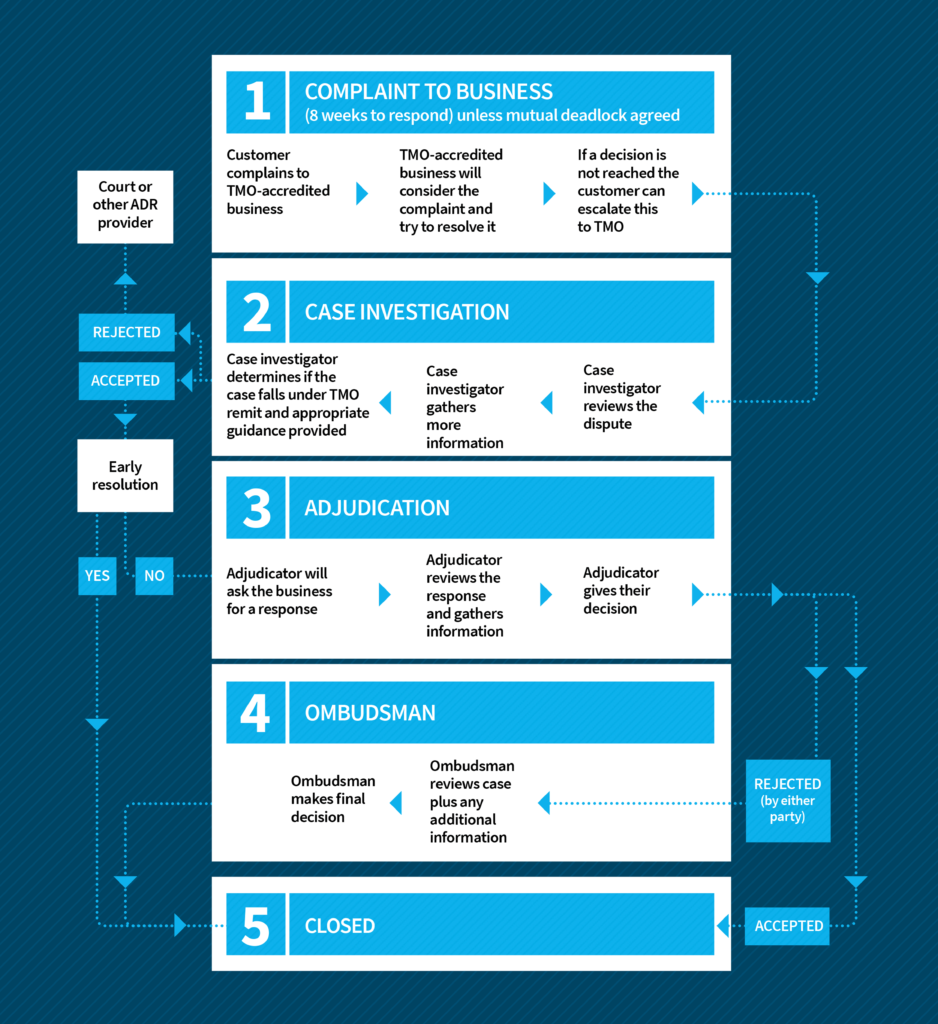 Submit your dispute
If you're ready to submit your dispute to us, the easiest way is through our online submission form
The easiest way to do this is via our online webform.